Product Storytelling with Paul Tudor
26 March 2019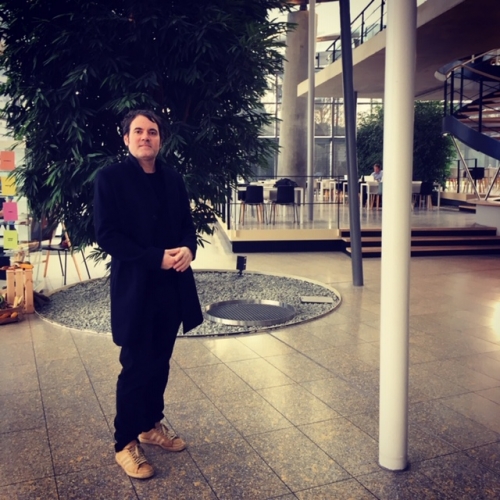 Getting fresh insights from industry professionals is an important part of the offering at Falmouth. Students enjoy a variety of workshops, such as those recently run by Paul Tudor, professional sportswear and lifestyle design expert, and Head of Men's Footwear at Clarks.

In his series of workshops, Paul gave students from the BA(Hons) Sportswear Design and BA(Hons) Sustainable Product Design courses an invaluable insight into the footwear design industry, sharing his wealth of experience working for Clarks, Puma and Adidas.
Helen Skinner, Course Coordinator and Senior Lecturer on BA(Hons) Sportswear Design, organised the series of workshops for the students.

The workshops provided insight into the industry's design process by exploring questions such as 'What makes a product iconic?', 'How do brands use their own heritage to generate new products?' and 'How can developing stories around products add to their success?'.
Helen told us: "Paul has a relaxed and engaging attitude. During the workshops he shared colourful stories of working with the likes of Pharrell Williams, designing football kits for the Confederation of African Football (CAF), and on iconic designs such as Adidas's Gazelles and Stockholm trainers."

Helen said: "Paul emphasised how his knowledge of the design process has enabled him to design for a diverse range of products from t-shirts to trainers, and that this process has continued to inform his senior management roles."

Having used their creative CAD skills to generate a design project over the course of the workshops, the students were then given an opportunity to present their work to Paul.

Helen added: "Paul's take-home message to the students was: be the graduate that is flexible, passionate, willing to be part of a team, and ensure your work tells a story!"
You might also like