New Falmouth course becomes BAFTA eligible
29 March 2021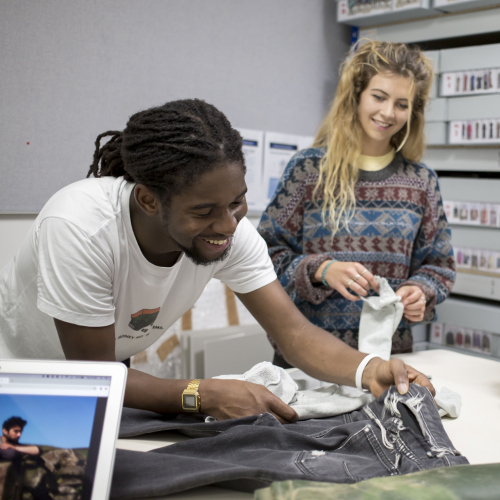 Students looking to study Costume Design for Film & Television BA (Hons) at Falmouth could now receive support from BAFTA. The course is just the second undergraduate course to become eligible for the UK scholarship programme.
BAFTA's programme supports British citizens who are in need of financial assistance to study eligible undergraduate and postgraduate courses in the UK. BAFTA scholars can receive up to £12,000 towards their annual course fees, as well as mentoring support and free access to BAFTA events around the UK.
The exciting news means that talented costume designers, who may not have otherwise been able to pursue their dream subject, have been given an opportunity to access Costume Design for Film & Television at Falmouth. The move is set to both widen participation and increase access to the course.
Course leader Dr Julie Ripley was thrilled to hear of BAFTA's decision.
"For BAFTA to have listed Costume Design for Film & Television at Falmouth as an eligible course on their prestigious scholarship programme is a huge honour.
"It recognises both the need to increase access to this area of the arts, as well as acknowledging the quality of our course at Falmouth. We are the only course in the UK to focus entirely on costume design for the screen and offer collaborations with other screen-based courses.
"We encourage students to conduct thorough and extensive research as the basis for their creative outputs. They make use of anthropology, psychology and sociology, as well as modern dress history as its theoretical basis. Our practical tuition ranges from pattern cutting and construction, sketching, designing and developing original costume to acquiring, hiring, altering and breaking pieces down."
With close links to the School of Film & Television, the course offers lots of opportunities for cross-disciplinary collaboration; a factor that Julie believes will have helped ensure the course's BAFTA eligibility.
"Some of the students had designed and made costumes for an MA student film as an extra-curricular project within six weeks of the course starting. They are a fantastically talented, enthusiastic and driven group of young people. I can't wait to see who will join them as part of the BAFTA scholarship programme."
You might also like