Musical Musings with Charlotte Lloyd-Butler
15 August 2018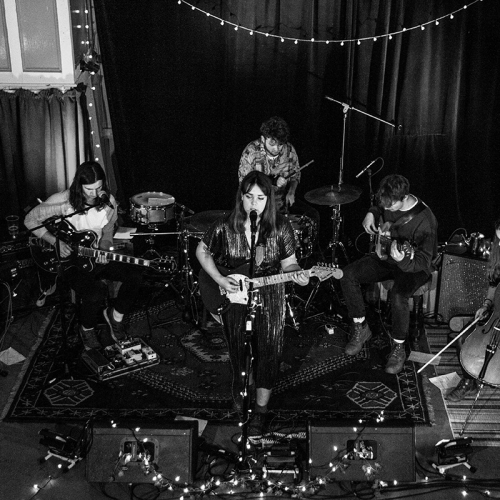 Popular Music graduate Charlotte Lloyd-Butler has come a long way since learning the guitar at sixteen and writing her own songs in her West Berkshire home. Five years on, she has released two solo EPs and recently finished her second UK tour.
Charlotte and her band members all met at Falmouth and were studying music degrees at AMATA, and Charlotte feels that each of them has added his or her own talent to create the unique soundscape they are known for.
Charlotte explained: "The amazing group of musicians that I play with have supplied their own musical background filters to create a sound that has been dubbed 'graceful, atmospheric indie' by the New Pantheon Club in 2016.
"I think this is still very true, we kind of live by this description as it hits the nail on the head. We have also had comparisons drawn to the likes of Lucy Rose, Daughter, London Grammar and Bon Iver, who all exist in this same realm of ambient, atmospheric singer-songwriters."
Charlotte's first EP entitled Out of the Light was released in 2016, comprised of songs that she had written up to three years earlier and incorporated into a single body of work. For Charlotte, the most rewarding aspect of finishing her very first EP was listening back to her songs and being proud of the work she put into it.
Her second EP, In the Morning, was the project that garnered her the attention of prestigious platforms such as BBC Introducing, as well as various blogs and playlists. Charlotte also travelled to Sweden in order to play a gig and film a live session, thanks to the play listing attention that the EP received.
Following her international exposure, Charlotte embarked on her second UK tour. Charlotte reflected: "We played in venues across the south of the country including London, Reading, Plymouth, Exeter, Bristol, Bath, Brighton and of course a homecoming show in Falmouth.
"The whole tour ran pretty smoothly, we played in some amazing venues and met loads of new bands."
For Charlotte, song writing is a process that draws on particularly poignant emotional changes or experiences, so it can sometimes be difficult to pinpoint a source of inspiration.
However, she feels her time at Falmouth has provided her with a lot of creative energy, saying: "Falmouth has just been the best environment to create and pursue music, I really can't say how appreciative I am of the place that has allowed me to grow, experiment and collaborate.
"The biggest impact has definitely come from those around me, I have learnt a tonne about the industry, new music, creative processes, and become hugely more confident in my own ability thanks to the lecturers, fellow students and friends."
You might also like