Lecturer's New Album is Guardian Folk Album of the Month
17 December 2019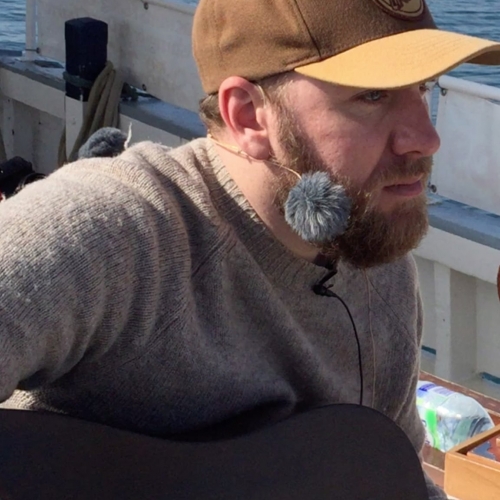 'Still Every Year They Went' is an album by Dr Johny Lamb, Senior Lecturer in Popular Music, (also known as Thirty Pounds of Bone) and Dr Philip Reeder. It has just been nominated as the Guardian folk album of the month – read the review.
You can see a video for some of the songs here (published by the Performance Research journal).
Johny tells us how he feels about the album's release and about his inspiration for the tracks: "I feel good about the release. It's taken a long time to get right, complete and get out, so it's lovely that it's been well received so far. We're very flattered by the first reviews and grateful for the radio play on Late Junction and Roddy Hart's BBC show. Also, I'm excited to move on to newer projects.
"The album can be enjoyed by everyone and will be of particular interest to those who are interested in new renderings of traditional/folk song, and/or people interested in the fisheries and maritime history.
"It was inspired by a project I did in 2012 with Lone Twin for the Cultural Olympiad called 'The Boat Project', where I took Lone Twin's boat with a crew 600 nautical miles round the south coast of England. I made a song for each leg of the voyage and recorded and performed as we went.
"Since then I'd been wondering how one might make a record while at sea, rather than just about the sea. So, in 2015, I collaborated with Dr Philip Reeder, an acousmatic composer and phonographer, on the capture and production of a collection of maritime songs relating to the fisheries, or other maritime themes.
"We recorded the album on the 'Girl Emily' which fishes out of Falmouth's Custom House Quay. We wanted the noise of the boat and its surroundings to form part of the composition/performance which was quite a practical challenge.
"The title references Susan Cooper's novel Greenwitch, as she describes the steady decline of the Cornish fisheries. There is something uniquely interesting about performing work songs from an industry where technology has erased the need for the activities for which the songs were designed.
There is something interesting too about taking these songs back to the water. Philip's methods are wonderful at translating the experience, while simultaneously accepting the failure of immersion through media of something so physical and visceral."
The album is out now on Scotland's Armellodie Records on CD and all streaming platforms.
You might also like