Lecturer Wins Art Medal Award
11 December 2018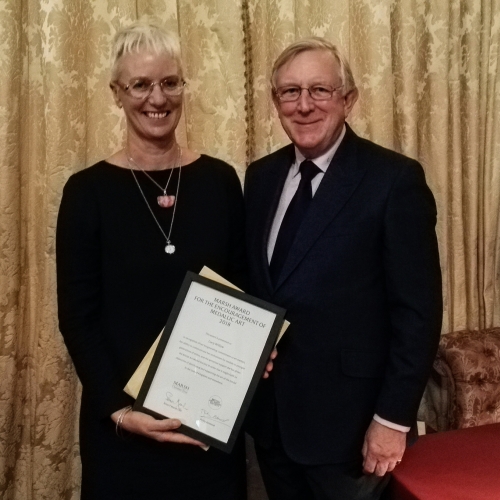 Lucy Willow, Senior Lecturer and sculpture specialist at our Falmouth School of Art, has been awarded by the British Museum for her commitment to art medals.
Her longstanding dedication to the art, her ability to communicate her enthusiasm for medals to younger generations of artists, and the generous support she has given to the British Art Medal Society (BAMS) are what qualified her for the award.
Lucy explained: "Making medals is a wonderful opportunity to think conceptually about how one side of the piece relates to the other, and how the audience holds the bronze sculpture in their hand. You can hold the audience captive, getting them to reflect on the meaning of the piece. Within fine art practice, this intimate relationship to the object adds to the quality of the project. Within my art practice I usually work with dust as a material. This is one of the few times that I work with a permanent solid material such as bronze.
I love how it feels: the weight, texture and temperature in your hand."
Since winning an award as a student in 2001, Lucy has been working with BAMS; each year she works with a group of fine art students, encouraging and supporting a new art medal cast in bronze. The student work is then submitted to BAMS each year as part of a national competition run by the British Museum. Students from Falmouth have had numerous successes, with some being selected for the New Medalist Scheme.
It is Lucy's contribution to the art form and her constant encouragement of the art within younger artists that has won her this latest award by the British Museum.
You might also like