"I couldn't believe it - Friends ripped us off!": In conversation with Neill Gorton
29 March 2021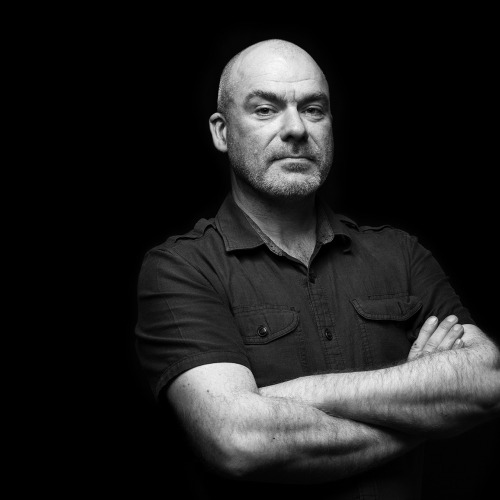 With over 35 years of experience in the film industry, prosthetic effects artist Neill Gorton has enjoyed a career that has included working on blockbuster projects such as Saving Private Ryan and Doctor Who. We caught up with Neill to discuss his career history, and what working in education means to him.
In 1980's Merseyside, Prosthetic Effects lecturer Neill Gorton was busy making a mess of his family home.
Acrylic paint and high-strength glue seeped through the bedroom carpet of the aspiring makeup artist, much to the bemusement of his parents. "I was quickly banished to the garden shed", Neill chuckles, "but they were really supportive of what I was doing."
The hours of work that Neill put into his craft within the walls of his make-shift garden studio provided the foundations for a distinguished career. Neill is now into his fourth decade of working as a prosthetic effects artist, operating design studios in Aylesbury and Redruth, as well as running the Prosthetic Effects MA at Falmouth. During the course of his career, he has seen the film industry evolve from a sector in recession to one that produces a mind-boggling amount of content across several major streaming platforms.
But how does an aspiring artist get a footing in the niche environment of special makeup effects? "I watched the end credits of BBC shows and wrote to the people that came up on the screen! I'd just write to whichever name came up, Care of the BBC. And you could actually get things to people like that."
Much to his delight, Neill received a letter back. The response encouraged him to continue honing his craft and create a portfolio of work. Armed with this information, Neill returned to the garden shed, and did exactly that.
I accosted him (Bob Keen) outside the shop and he agreed to view my portfolio... he took a look at what I'd done and hired me on the spot.
By the age of 15, Neill had enough work to take to studios in London. Using his brother's sofa as a base for his excursions, he wandered from studio to studio looking for opportunities. Two years later, he got his break. Established British makeup artist Christopher Tucker (Elephant Man, Phantom of the Opera) was impressed by Neill's portfolio and gave him two weeks of work experience. "After I'd done the work with him, I just thought, I can't go back to college now! I have to keep doing this."
Neill returned to Liverpool and applied the lessons he'd learnt during his placement to his portfolio. Once he felt like notable improvements had been made, he hopped back on the train to Euston and found the moment of luck he'd been craving.
"There was a famous comic bookstore called Forbidden Planet. I went in there and saw a guy I recognised: Bob Keen (Hell Raiser, Candyman). I accosted him outside the shop and he agreed to view my portfolio at his studio. The following Monday, he took a look at what I'd done and hired me on the spot."
The job that Neill was hired for would be his first project, Waxwork, a film that sits within the deliciously entertaining genre of horror-comedy. Film executives were no-doubt keen to emulate the success of An American Werewolf in London, which had won the first ever makeup Oscar in 1981. As Neill recalls, it was "a seminal moment in the industry".
The only way to innovate is to look outside of what you're doing.
Whilst the visual effects scene had now been acknowledged by the Academy, Neill had not yet 'made it' in his profession. He'd joined an industry that was all-but bust, where work was scarce and opportunism was needed. "I scrabbled about doing physical effects – wetting down streets to make it look like it'd rained, generating wind effects by operating huge fans, that kind of thing. I actually got hired to operate the wind machines purely because my van had a tow bar on the back of it – the special effects supervisors knew that by hiring me, they wouldn't have to go out and also hire a van!"
The physical effects may not have been the work Neill dreamed of, but he saw the benefits to what he was doing. "I knew that these experiences, however obscure, would aid me in the future… The only way to innovate is to look outside of what you're doing."
People say never meet your heroes... nonsense... He (Steven Spielberg) was the real deal.
This proved to be the case. One of Neill's physical effects co-workers was Steve Begg (Batman Begins, Lara Croft: Tomb Raider, Casino Royale), who went on to strike up a strong working relationship with Gerry Anderson. It wasn't long before Steve recommended Neill for the special effects position on Gerry's new series Space Precinct. Perseverance had paid dividends.
From there, Neill's career rocketed. At the age of just 26, he found himself heading the corpse and animal effects department for Steven Spielberg's epic war movie Saving Private Ryan. "People say never meet your heroes… nonsense. To be able to watch the way he got his shots, the way he communicated with people… He was the real deal. Everything since has been a bit of a disappointment!"
To some, that statement might suggest that Neill would suffer a career down-turn; far from it. Following his early work on movies, Neill added television work to his rapidly expanding skillset – a side of the industry that he has come to prefer. "There are fewer voices in TV. When you work on movies, so many people feel the need to contribute their opinions that good ideas get diluted." This was never more apparent than when working on Sahara. "We were creating this tribal scarification design. So, you have these little dots that ring around a person's eyes. I got asked to do several variations on my original design, each having been tweaked slightly by someone else's opinion. At about the tenth meeting I just presented them with my original design and they said, 'yes, that's it!'"
There was also a practical element to working on television programmes. As Neill explains "you can work on a movie that is supposed to last 9 months, and it gets cancelled after two weeks." TV, with projects that contained multiple episodes and often recurring series, offered far more financial security.
During his time in television, Neill worked on a slew of British comedy: The Catherine Tate Show, Harry Enfield and Mr Bean were all notable achievements, with his work on the latter 'inspiring' a famous episode of Friends. "They ripped us off! We did the Christmas special for Mr Bean when Rowan Atkinson gets the turkey stuck on his head – lo and behold Friends nicked it from us six years later."
I had a really great relationship with Russell T Davies; it would be 1am and we'd be banging doodles back and forth over email. It was a genuine creative process.
Considering what would come next, Neill would be able to chalk the episode up to a creative compliment of sorts. Having established himself in the television industry, he then landed prosthetic effects gold dust: Doctor Who.
"I had a really great relationship with writer Russell T Davies (Queer as Folk, Casanova, It's a Sin); it would be 1am and we'd be banging doodles back and forth over email. It was a genuine creative process." For Neill, who had been obsessed with Doctor Who since childhood, getting to redesign the iconic Cybermen was the crowning jewel on his creative career.
As a seasoned prosthetics effects artist with a wealth of industry experience, Neill has currently found himself busier than ever with projects for film and television. But despite his continued creative output, he feels a desire to "give something back" as an educator, and has been doing so for two decades. "When I was young, I'd write those letters to the BBC and someone, somewhere, took the time out of their day to write back to a 14-year-old kid." Now with the courses provided at Gorton studios in collaboration with Falmouth University, Neill has the chance to nurture creative talent. Through a large grin, he explains "there's nothing better than seeing someone with talent. And nothing better than seeing that talent grow."
You might also like