Graduate shortlisted for Drawing of the Year competition
04 July 2023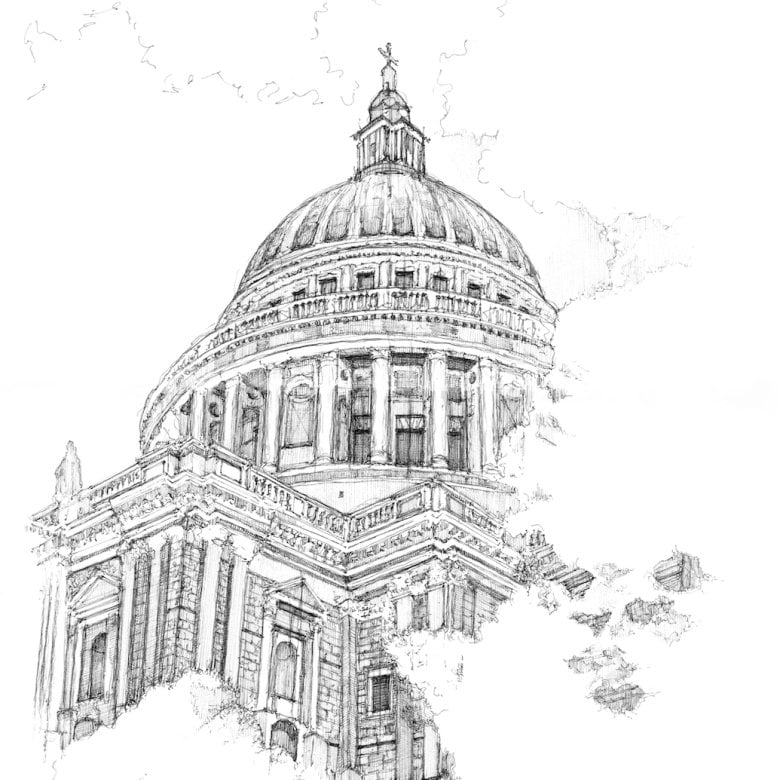 Sketch of St Pauls by Katie Hewson
Artwork by Katie Hewson
What are you up to now? 
I am currently working as an artist and illustrator, whilst also taking my first steps into the design industry. Being able to cross over into different industries has helped me to realise that my skills in drawing can take me anywhere. 
Since graduating, I have completed some drawings that I am really proud of, and architectural illustration is something that I am keen to continue to pursue! I have a few exciting projects coming up, including a commissioned drawing of a building in London. 
What have been the highlights of your career so far? 
I recently discovered that one of my drawings was shortlisted for Archisource's Drawing of the Year, a widely recognised award series for the architecture and design community. The competition received thousands of entries from 95 countries, making it the biggest year yet! On top of this, my work has since been published within the Ideas Pocketbook 2023 – an architecture book designed as a tool to ignite creativity and provide inspiration across an array of different drawing types, styles and ideas. In the book, my drawing appears next to work by an artist that I look up to and studied throughout university, which feels quite surreal. Above all, I am especially proud that this has come from doing something I am so passionate about. 
Tell us about a project that you're particularly proud of
One of my recent projects was designing the packaging for a sustainable wetsuit brand. This was very much influenced by my time in Cornwall, alongside a passion for sustainable design. This was the first project where I realised how much of a cross over there is between drawing and other creative industries, and I'm really enjoying exploring how my practice can span different sectors. 
A University project that I'm proud of was one that explored drawing and photography. This was inspired by my dissertation, which focused on the connection between the two mediums. Combining both drawing and photography within a final piece enabled me to demonstrate what I was writing about. I think that learning about and understanding other mediums, what they can or can't do, has helped me to become a better artist.  
A more recent drawing that I am particularly proud of is one of The Old Royal Naval College in Greenwich. It is nothing more than a pencil drawing, but it's this simplicity of drawing that I really like! 
What advice would you give to prospective and current Drawing BA(Hons) students?
My advice would be to do the work that you love, whilst keeping an open mind about where it could take you. Remember that drawing is such a transferable skill! Spend time in the studios but also make an effort to talk to students on other courses; many subjects are interlinked and there is so much to learn from your peers. 
See more of Katie's work on her Instagram.