Games Graduate Hired to Design Sea of Thieves
21 February 2019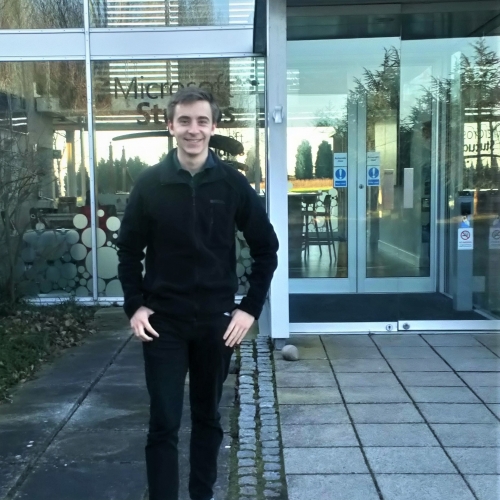 Conall Blake only graduated from BA(Hons) Game Development in 2018 but he's already forging a career in the industry at a leading games studio.
With a highly coveted position as a Games Designer at Rare, Conall is currently working on its award-winning, multiplayer action-adventure game, Sea of Thieves.
Developed by Rare and published by Microsoft Studios for Windows and Xbox One, Sea of Thieves allows players to take the role of a pirate sailing the seas of a fantastical open, shared world. Players can travel, explore, fight, sail, embark on quests for loot, and interact with other players along the way. It has a cartoonish art style and first-person game play.
When asked how it felt to get the job, Conall told us: "When I went into my interview I knew that Rare was a place that I wanted to work, but meeting the team and feeling their enthusiasm made me super excited. It is a wonderful place to work. I look forward to getting in and cracking on."
At the interview, Conall's ability as a game designer was tested. He explained: "Mostly this was done through simple discussion with my interviewers asking me my thoughts regarding how I would change the design of games that I had recently played. Having just spent three years studying game design, I was well equipped to answer these questions."
Students on the BA(Hons) Game Development course learn about the industry by producing real games, from concept to completion, ready to take to market. The tutors provide substantial industry experience, unique insights and professional contacts, helping the students to work in teams on different projects. Each student chooses their own specialism.
Conall chose Design; exploring the rules, systems, puzzles and challenges that shape a player's experience. In his interview, Conall was confident discussing "player experience, designing for player-usability, situations where it may be advantageous to subvert usual design conventions, etc." He told us: "Having students specialise early in the course definitely provided me with the depth of knowledge required to carry me through this interview."
As part of his interview, Conall was asked to describe how he would design a feature for Sea of Thieves: "I spoke not only about design on a player interaction level but how the design would affect implementation workflow. I could describe my practical experience in great detail. This actually led one of the panel members to say, 'you sound extremely experienced', which is testament to the course's practical game development focus."
Conall's advice for people looking to get into the industry is to "build games".
"I hate to echo the advice of everyone else in the industry," he told us. "But it really is true. The thing that impressed my employers the most during the interview was my practical experience. When they asked me questions about how I would design a game, I could tell them not only how I would approach it from a design perspective but how I would build it."
He also advised that alongside their studies, students should experiment in their own time.
"Make sure you start projects that are scoped appropriately to your time and skills," he added. "I have invested hundreds of hours of my spare time into projects that have never made it to my portfolio because they simply weren't achievable for one person. I learnt plenty from these projects, but if you plan better then you would quickly build a quantity of work that will attract the attention of recruiters."
You might also like