Film Alumnus Shares Expertise
17 February 2020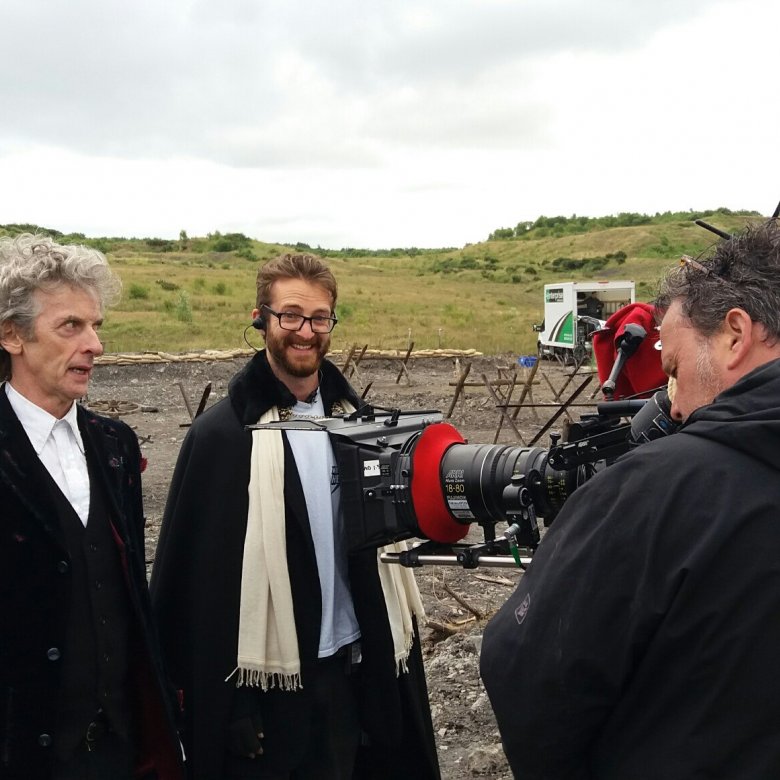 Film alumnus Kieran Hayhow
Kieran on the set of Doctor Who with Peter Capaldi
Film graduate Kieran Hayhow returned to Falmouth recently to speak to current students about working on the likes of His Dark Materials, Sex Education and Broadchurch.
Kieran said:
It was great to come back to Falmouth. It reminded me how much I valued and enjoyed the visiting lectures while I was a student. The range of speakers from recent graduates to industry veterans covering many different roles within the industry provided so much insight and inspiration.
"It was a surreal and humbling experience to come back and talk to students about my experiences in the industry and answer their questions about launching their own careers in the film and television business. If there's one piece of advice that I hope they all take forward into their careers it would be - nothing beats a good work ethic, a good attitude, humility, patience and a willingness to get stuck in."
Kieran, who graduated in 2012, began his career working in videography before getting a job at Films@59, a post production house in Bristol, where he spent a year as a runner. He then moved into drama working as a floor runner for three years on a variety of TV dramas, independent feature films and commercials, and now works primarily as a Third Assistant Director.
Kieran spoke about his impressive filmography: "My full credits include Thirteen, Ordinary Lies, Doctor Who, Casualty, Eat Locals, We can be Heroes, A Discovery of Witches, Salisbury and War of the Worlds, where I also directed some of the second unit scenes.
"In addition I have worked for companies including the BBC, Netflix, HBO, Sky, ITV, Studio Canal and Fox on numerous other productions including His Dark Materials, Sex Education, Broadchurch, Poldark, Apostle and Eternal Beauty."