Feature Film Nominated for Prestigious Award
7 June 2018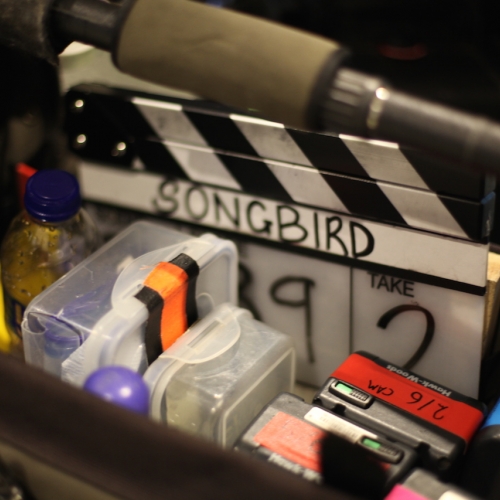 A film featuring an A-list actress, funded by Falmouth University and crewed by Film and Television students, has been nominated for the Michael Powell Award at the Edinburgh Film Festival.
Songbird, a romantic comedy about the lead singer of a once popular indie band heading to university, was funded by and shot in the facilities of the School of Film & Television, with twenty-five students working on its production alongside the screenwriter and director Jamie Adams.
The cast features Hollywood actress Cobie Smulders, best known for her role in The Avengers films, and British comedy legend Jessica Hynes. Supporting actors include the likes of Noel Clarke, who has been involved in films such as Kidulthood and Star Trek: Into Darkness.
Professor Christopher Morris, director of the School of Film & Television, explained: "Giving our Film and Television students the opportunity to be a part of a full-scale feature film production gives them invaluable experience. Such has been the success of our programme of feature production that filmmakers such as Jamie Adams are now coming to us to tap into our talent and resources in Cornwall."
The plot follows Joanne Sykes, a member of the indie rock band The Filthy Dukes, who's best days are far behind them. As the band starts to fall apart, so does Joanne's personal life as she finds out her boyfriend has been cheating on her. This leads her to drunkenly apply for university as a mature student, and finds that it isn't quite what she expected.
Director Jamie Adams said: "I am incredibly lucky to be working with such a talented cast and crew on Songbird. Cobie Smulders is such an amazing comic actor and it's truly a privilege to work here in Cornwall, hand in hand with the film school at Falmouth University."
Songbird receives its world premiere on 28 June and will have both UK and US distribution shortly after, appearing in cinemas nationwide and in twenty-two American cities.
You might also like