Falmouth Wins Four RTS Awards
20 April 2018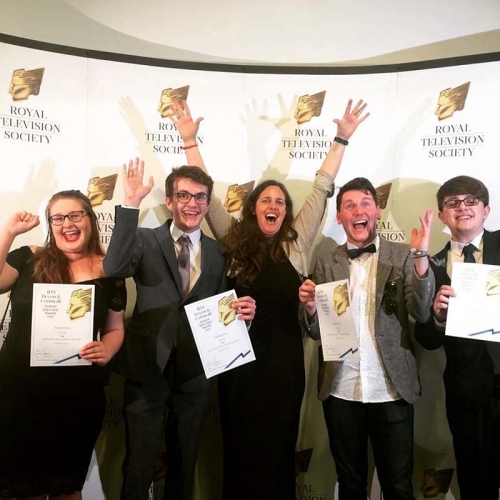 School of Film & Television students took home four prizes at last night's Royal Television Society (RTS) Devon and Cornwall Student Awards.
Kingsley Marshall, Head of Film at Falmouth and RTS Devon and Cornwall Central Chair, said: "We've had a terrific range of entries from the region's further and higher education institutions.
"The panel highlighted the prowess of the storytelling across both factual and drama, and noted the high levels of craft across all of the shortlisted entries."
Winners include:
• Factual - Boi – Dionne Rayner, Laura Marr, Wesley Trevena, Bethan Fairbairn
• Craft: Sound Design - Our Daughter is a Necromancer – Elitsa Nadyalkova
• Craft: Production Design - Siffre – Henry Crisp, Jacob Woodward, William Roberts, Line Vangen
• Craft: Editing - Miss Malarkey's Lost Her Man – Mattias Tamar Gill, Megan Thompson, Alex Atkinson, Jude Lilley
The winners of the RTS Devon and Cornwall Student Awards will be put forward into the upcoming national RTS Student Television Awards 2018, which will take place at the BFI Southbank in London on Friday 22 June.
The RTS Student Award recognise the best audio-visual work produced in universities and colleges around the country, in a wide array of genres including factual, short feature and drama. They also reward distinction in craft skills, such as production design, camerawork and editing.
You might also like