Falmouth University signs covenant to recognise the contribution of armed services personnel and their families
27 June 2023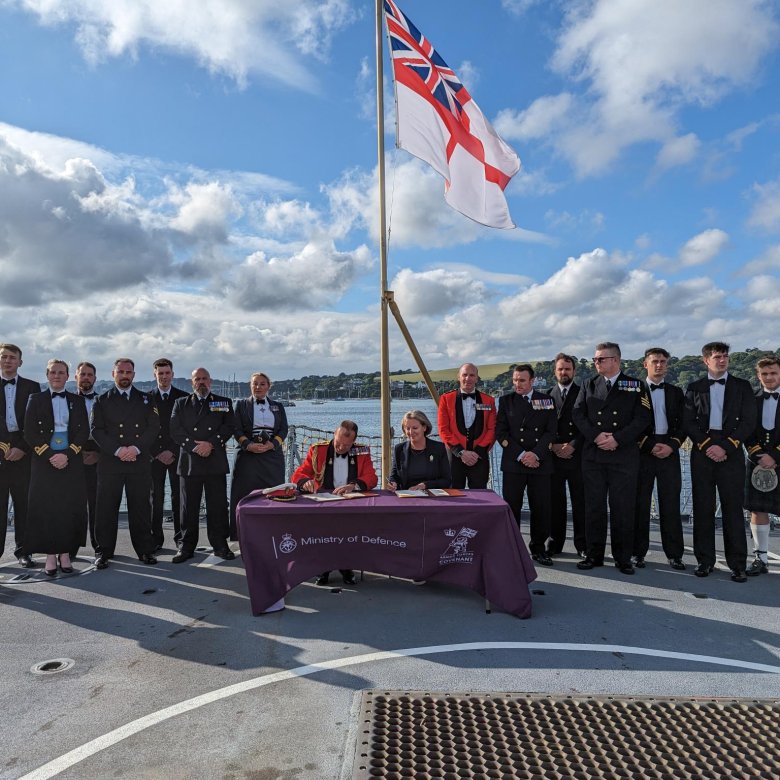 Armed Forces Covenant Falmouth University
On the eve of Armed Forces Day in Falmouth, Falmouth University's Vice-Chancellor and Chief Executive, Professor Emma Hunt has signed the Armed Forces Covenant on behalf of the University, recognising the value members of the Armed Forces and their families bring to organisations and communities. 
The covenant includes a pledge, "that together we acknowledge and understand that those who serve or who have served in the armed forces, and their families, should be treated with fairness and respect in the communities, economy and society they serve with their lives." 
In signing the covenant, Falmouth University commits to providing respect, support and fair treatment for members of the Naval Service, the Army and Royal Air Force, who have made an important contribution through their service.  
The University will ensure that service personnel, or people from service families, are fully supported to access Higher Education or to become a part of our staff community. 
The special signing on Friday 23 June ceremony took place onboard HMS Richmond: a Duke-Class Type 23 Frigate alongside County Wharf, Falmouth Docks, where Prof Emma Hunt was joined by Commander Christopher L'Amie (Royal Navy). 
Professor Emma Hunt, Vice-Chancellor and Chief Executive of Falmouth University said: "I'm very proud to sign the Armed Forces Covenant on behalf of Falmouth University, formally recognising the contribution of Armed Forces personnel and their contribution to our economy, community and businesses."