Falmouth photographers among the best in British press photography
31 August 2023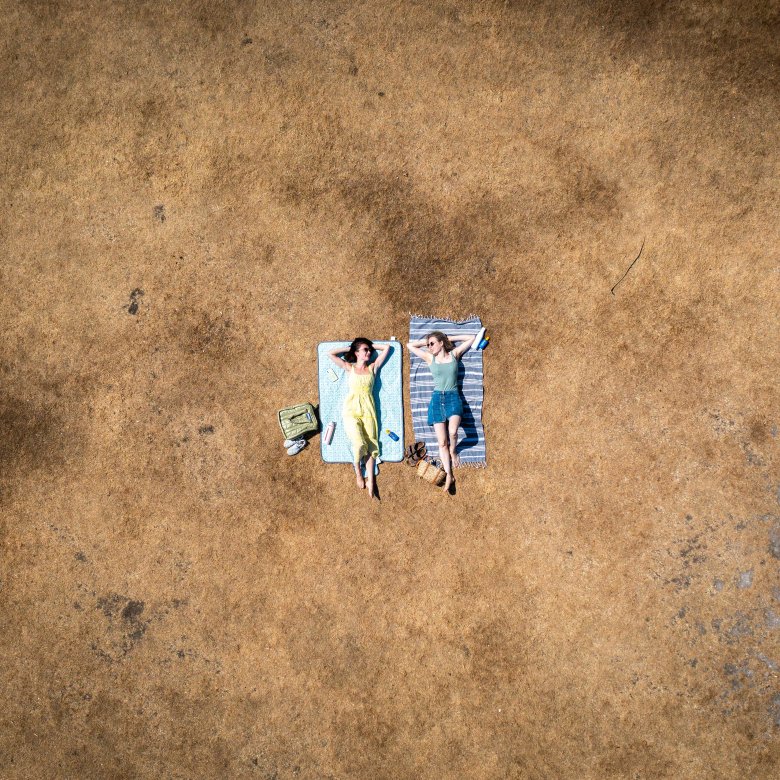 Jordan Pettitt
Friends sunbathe on the dry grass of Southampton Common which resembles a sandy beach during the hot weather as Hampshire and other neighbouring counties were hit with a hosepipe ban in 2022 to protect low reservoir and river levels.
One of the images which Ryan has been shortlisted for at this year's awards depicts Manchester United and Liverpool football fans clashing after a Premier League game, fueled by the Manchester United fans' earlier protest against the Glazer family ownership of the club. 
On being nominated again this year, Ryan told us: "I am very pleased to be nominated for a second time. My shortlisted set of pictures encapsulates a variety of my work from politics to football. I would like to thank the Press & Editorial Photography team at Falmouth for giving me the freedom to go out and make work alongside my studies and giving me the tools and help I need to continue to create work like this." 
Elsewhere, Jordan's career has gone from strength to strength since graduating in 2019, and he has recently joined PA Media in London as a Staff Photographer covering news, entertainment and sport across the UK and internationally. One of his shortlisted images, which depicts sunbathers in Southampton after a hosepipe ban was introduced last summer, made it onto the front page of The Times in 2022.
On making the shortlist, Jordan told us: "It's an honour to have been nominated. The set of five images I submitted were taken while I was working at Solent News & Photo Agency in a job which I started the same week I graduated from Falmouth. It's great to see my work recognised by the industry's top picture editors and to be nominated alongside some of the country's best press photographers who are shortlisted in the wider categories at the awards." 
On his time at Falmouth, he added: "Entering awards was always something the lecturers on the Press & Editorial Photography course urged us to do. It's important to get your work seen by leading industry figures, and it is still valuable advice that I remember to this day. I can't thank the lecturers enough for their wisdom, knowledge and guidance throughout my three years at Falmouth and the opportunities I was able to access through the course – I'm not sure I'd be where I am today without it." 
The Press & Editorial Photography team are thrilled that Ryan and Jordan are being recognised for their talents. Course leader Gretchen Viehmann told us: "These awards give our students the opportunity for their work to be seen by leading practitioners in the photography industry alongside the very best in the business. They have been an excellent career springboard for numerous Falmouth photography students over the years and remain an important reminder of the importance of photographic storytelling as one of the most powerful communication tools. We'll be cheering them on!" 
The winners will be announced at an awards ceremony in London on 16 October 2023.