Course Leader's Upcoming Book
4 February 2020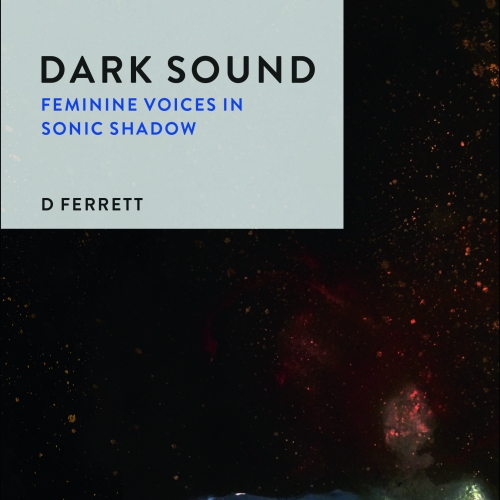 Popular Music Course Leader, Dr D Ferrett is the author of Dark Sound: Feminine Voices in Sonic Shadow, a new book that is to be launched in May.
Reviews have it marked as a book that "...changes musicology" - that "...invites us to open our ears to the world that lies in shadows beyond traditional listening ranges" and is "...symphonic, sizzling, and slinky, driven by a tempestuous intellectual energy".
We caught up with D to find out more...
What is your new book about?
The book argues that there exists tenacious cultural and historical associations between women and darkness that have, over time, informed understandings of, and prejudices against, both women and the darkness.
These associations regulate gendered norms and are particularly prominent in sound and music discourse... especially in relation to moments when a music lover tries to describe extreme sound, whether their experience is abject, ecstatic, sublime, ineffable or... 'near death'.
To this extent, women and the dark are curiously deployed at the limits of what can be said and known and so the book focuses on language that is used to speak about sound and music - on the edge of what can be said and at the precipice of the unspeakable sonic abyss.
The book is about interrogating the language of extremes in sound and music discourse by engaging with music made by women who appear to relish as opposed to refute the conjunction between femininity and darkness, that is to say, artists who make dark sound, and they include Anna Calvi, Moor Mother, Björk, Chelsea Wolfe and Diamanda Galás.
What was your inspiration?
Since I was a child, I have been compelled by dark themes and fairy stories, with a particular fascination for witches and ghostly women in black.
Of course, this later mutated into a love for gothic literature, anything by David Lynch (especially Twin Peaks) and the kinds of awakenings that come from intoxicating mergers of blues, punk and rock; the likes of Nina Simone, Billie Holiday, The Velvet Underground, Nico, Joy Division, PJ Harvey, Nick Cave, Tom Waits, Leonard Cohen, Cat Power - all life savers that inspired me to go to gigs, start my own band, join bands, write songs... and to sing.
More recently though, as a feminist philosopher and a music lover, I noted, with escalating urgency, the cultural prominence of the word 'dark' and an ever intensifying sense of living in 'dark times'.
There seemed to me to be an overwhelming feeling of connections between dark sound and its discourses, cosmology, feminism, climate emergency and the political crisis of 'now', a weave that I couldn't ignore - it was either write this book or go mad.
How do you feel about it being published?
Perhaps like an adder feels after it has been hibernating in a dark hole for a really long time... a little shocked and slow but, nevertheless, on the move and outside.
During writing, I struggled with the question of what constitutes an 'appropriate' response to these times and I'm still consumed by that question.
That being said, I look forward to having a copy in my hands and, maybe every writer knows this feeling... I like that the book will have a life that extends beyond my own - no matter what.
When is your book available?
May 2020 and it is available now on the Bloomsbury website for pre-order.
You might also like