Climate & ecological emergency – we're taking action
21 June 2021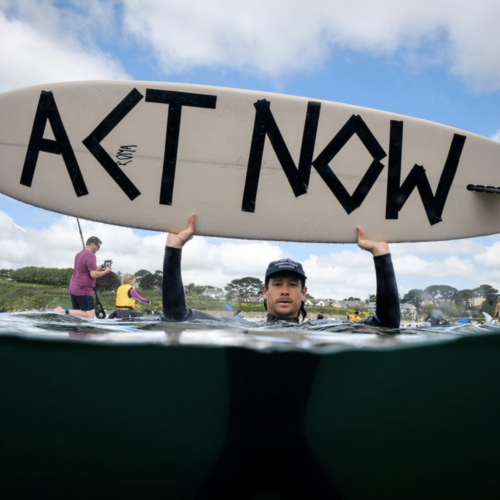 It's been two years since Falmouth University declared a climate and ecological emergency on 20 June 2019, recognising the crises and signalling our need and our duty to act. Since our update a year ago, we have advanced our current sustainability strategy, while using the time to identify and employ new actions.
Here are five key sustainability actions we have already taken, or are currently in the process of delivering, this year.
1. Created our first Annual Sustainability Report
In January we launched our first public Annual Sustainability Report. The Report is a key step in our sustainability journey, enabling us to measure progress against our Sustainability Policy, demonstrate our commitment to transparency and showcase our sustainability achievements during each academic year.
2. Launched a new Campus Sustainability Policy & Delivery Plan
Co-created with FX Plus, the FX Plus Sustainability Policy and accompanying Delivery Plan will steer us to achieving carbon net zero by 2050, integrating regenerative, circular principles, and facilitating a shift to a more sustainable Campus Community. In addition, our investment in a full-time Sustainability team, and its knowledge exchange partnerships with the University of Exeter, will catalyse our Delivery Plan.
We have already delivered many initiatives since launch, such as developing our indirect emissions profile and aims to identify major sources of carbon emissions, better understand how we can target reduction, and reveal what we can be doing better in the years to come. Our Procurement team is currently in the process of working with suppliers to develop sustainability plans, adding sustainability scoring to our tenders, analysing spend data and associated carbon emissions in greater detail and carrying out gap analyses.
3. Committed to reforestation & ecosystem restoration
We have committed to spending £30,000 per annum on supporting local reforestation projects, which will help facilitate habitat restoration and creation on our campuses and across Cornwall, through partnerships with local groups and Forest for Cornwall. Our planting efforts will support ecological regeneration and increase carbon sequestration and we hope that, through inviting our Campus Community to get involved, we will foster positive behavioural changes.
4. Refining our plans to embed sustainability into our curriculum
We recently achieved a Top 10 Institution Ranking in this year's SDG Teach In campaign. But this is just the start. We're thinking long-term, too. Our Sustainability and Learning & Teaching leads are validating a self-created tool to assist with the promotion and incorporation of sustainability principals within our teaching. Our aim is to apply this approach across our entire curriculum from September 2022, influencing future global citizens – arguably the greatest impact we can have as an institution.
5. Formed new partnerships
We are now a profiled university with the Ellen MacArthur Foundation, which recognises how we embrace circular economy related principles and practises and enables us to connect and learn from other world-leading universities. We have also joined the COP26 Universities Network, working with other UK universities to raise awareness and ambition among academic communities and the public to move towards a zero-carbon, resilient world.
Sustainability Week 2021
In March, we worked with the Students' Union to create and deliver Sustainability Week – a programme of digital events that encouraged shifts towards more sustainable ways of thinking and acting. You can watch recordings of the events, below.
Watch the events
You might also like