We're committed to supporting students who are under 25 and are care leavers, care experienced, or are estranged or otherwise independent of a family.
Going to university can be a big move, but we've got professional teams and Student Mentors on hand to offer you the support you need.
We define a care leaver as a young person (up to the age of 25) who has been looked after by the local authority for more than 13 weeks since they were 14, including some time at age 16 or 17.
We define care experienced as anyone who is currently in care or has been in care at any stage of their life, no matter how short. This care may have been provided in one of many different settings, such as in residential care, foster care, kinship care or looked after at home with a supervision requirement.
Employability
If you're a care experienced student we'll provide tailored employability support to you through our student employability service, RealWORKS. This includes: 
A Talent Coach 
Where we've been notified that you're care experienced, we'll proactively reach out to you to offer support with your career development. You can also contact the RealWORKS team directly by emailing realworks@falmouth.ac.uk.
Our Talent Coaches will introduce you to the services available through RealWORKS including an introduction to the REAL model of student development and an overview of the services available to you, including online tools and platforms, career events and support with job search and finding part-time jobs. 
Networking workshops
These workshops will outline the importance of building connections for your career. We'll also introduce you to Handshake, an exclusive network which provides thousands of opportunities for UK-based students and graduates.
Graduate timeline workshop
This session will provide you with support when securing placements and gaining access to graduate-level roles.
WP Internship
This internship programme is designed for any students who meet certain participation criteria, which students who identify as care experienced or a care leaver are eligible to access. This will be paid employment with a local employer for 30 hours in total and will help boost your employability.
We are committed to the Care Leavers' Covenant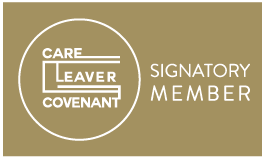 Student support
From funding, living and wellbeing support to our student mentor scheme, discover how Falmouth can help you make the most of your university experience.
Explore our support services