Living in Packsaddle Hill student accommodation
02 June 2023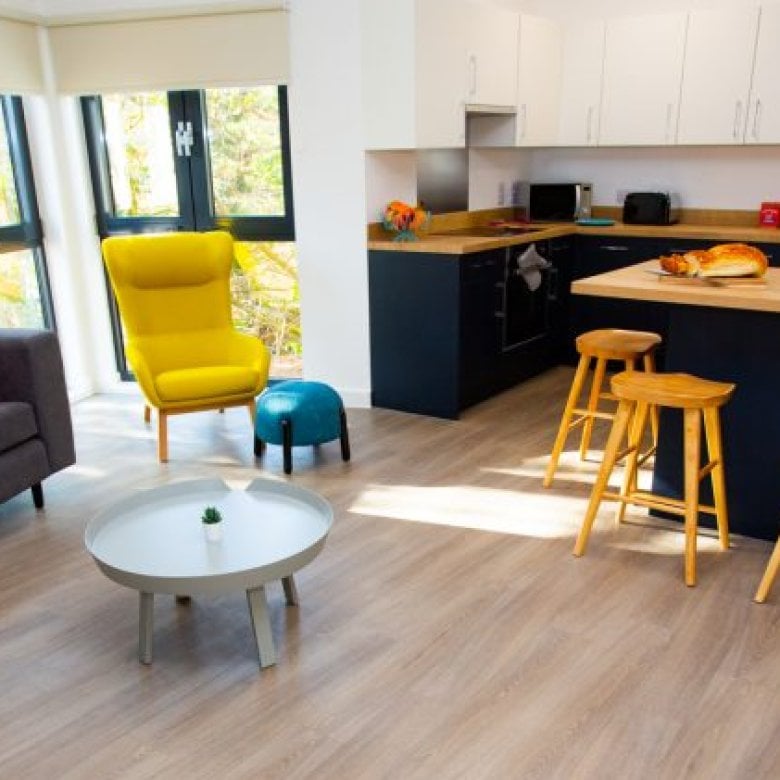 Packsaddle living room
This piece was written by Popular Music BA(Hons) student Jadelle about her student life budgeting tips.
When I was in college, I had no aspirations of attending university. That was until Falmouth held a workshop day at my college. I immediately applied without hesitation. 
I didn't consider the distance from Birmingham, I automatically fell in love with Falmouth University, the Popular Music course and the local area.
In my first year, I lived in Packsaddle Hill student accommodation. Before I moved in, I was in a lot of group chats (on Facebook, Instagram and Snapchat) for accommodation. I also joined the Glasney Village accommodation group chat to meet people, who would be living there. Two weeks before I moved in, myself and other people who were moving to Packsaddle held Zoom calls to get to know each other. When I moved in, it meant I knew people, almost as if I'd known them for years. 
When I arrived, other residents of Packsaddle helped me move my stuff to my room, as I was on the second floor and helped me unpack when I was ready to do so. After the first two weeks of university, I began to feel homesick, but I found that when I spoke to people about how I felt, it was shared between everyone, so I was able to talk to my friends and they could speak to me. 
All of Packsaddle's rooms include en-suite bedrooms with double beds, a kitchen area to spend time with your flatmates & friends and a communal area for all of Packsaddle's residents to get together; a great place to study, have a games night and more! I was in a flat of six people, however flat sizes can vary. There is also an option for a self-contained studio, which includes a kitchen and en-suite. 
What stood out to me most about Packsaddle was how modern it was, at the time I was the third year group to live there. I also really liked the fact there was a dishwasher, that saved a lot of time rather than doing bulks of washing up and having it stacked on the kitchen counters. The main attraction for me was how small it was, I didn't want to live somewhere busy, but wanted to stay fairly close to campus. I was a five minute walk from Glasney, but was able to go back home to a quieter accommodation. With just over 120 students, I knew everyone who lived at Packsaddle, which created a nice community. 
Packsaddle is located near a bus stop that goes to Falmouth town one way, and other areas of Cornwall the other way. Food shopping is extremely easy from Packsaddle, Asda is a 25-minute walk from the accommodation or you can have it delivered straight to your block! There is also Lidl that is a 35-minute walk through Penryn town or a 7-minute bus journey. Other food shops in the local area are Sainsbury's and two Tescos in Falmouth town. 
The one thing I love about campus is how diverse it is. Everyone is extremely accepting, welcoming and friendly. During freshers week, you have the opportunity to meet so many new people at events or societies and as you spend more time living in Falmouth, you realise that everywhere you go, you know someone!
Overall, living in Packsaddle was such an amazing experience, even though I lived there during the peak of Covid. I made amazing friends, who I will be friends with for life, I've gained life experiences and I found that I really matured whilst living in halls.