Design, at its heart, is about ideas. Most design teaching is based on the premise of a process – a series of steps that encourage iteration, lateral thought, and importantly, a familiarity with creative risk and/or failure as a natural part of that process.
Many of us will instinctively begin with 'safe' methodologies – practices that have succeeded in the past, rather than embracing new opportunities. designdice™ evolved out of these reflections; to encourage students to take more creative risks and to try and package the complexity of a rich creative process in a form that encourages play and a natural flow of innovative ideas.
The project began with observations of design student behaviour, and patterns that specific groups tended to evidence year-on-year. The key-moment was when Andy met with six Level 5 students across a morning teaching session, all of whom were independently working on the same project, and all of whom were independently making the same limiting judgements.
The thinking then developed more deliberately in the broader light of these observations, much of which were truths that resonated with even the most seasoned designer. Was there a way to address our collective propensity for creative blind-spots (either though ignorance or habit) or our tendency to gravitate towards more immediate 'literal' solutions (rather than lateral)?
The subsequent thinking developed a framework around which Andy created a series of textual prompts (much like the role of a tutor) that would force an objective reflection by the students on any given project, at any given time, bringing new perspectives, behavioural change and lateral thought to the table.
Creative thinking tools or bespoke processes are commonplace in the design world, as are academic courses that encourage students to grow creatively. All fundamentally invite the individual to consider alternative perspectives on the problem-in-hand, with the added safety of an established curriculum, or a series of logical steps to build around (De Bono's Thinking Hats, and Eno/Schmidt's Oblique Strategies being two that particularly influenced the thinking on designdice™).
Significantly, its evolution was driven by an inner 'need' to make a tangible product that would benefit students and designers in their creative journey, rather than a passion to develop a research question. Andy's centre of gravity is very much rooted in the development of real-world tools that translate pedagogic ideas into practical applications that live or die on the use they receive (by students and the wider design community).
The process followed that of any traditional design problem (i.e. discover, define, develop, deliver – albeit in a non-linear fashion), and the initial notion was road-tested with students, informing subsequent revisions, which then paved the way for the formal product design, production and delivery.
The biggest challenge was the shift into new creative territory as a product (rather than graphic) designer, and the new learning was as much a part of the achievement and outcomes as the tangible set of dice.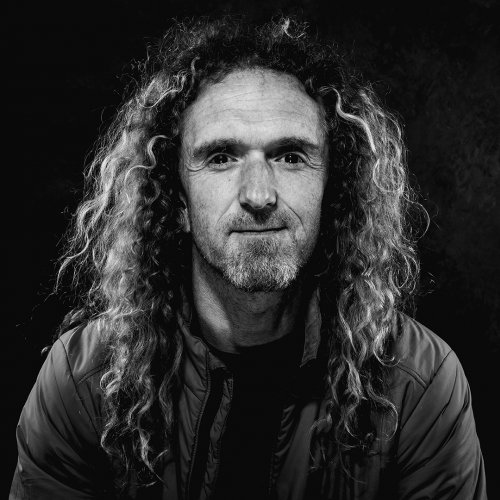 Andy Neal staff image
Andy Neal - Project lead
---
Andy Neal is a Senior Lecturer in BA(Hons) Graphic Design and MA Communication Design at Falmouth University. His professional practice and research span graphic design, design process, typography, design practice and liturgical space. Find out more about Andy's academic experience, research interests, projects and outputs by visiting his staff profile.
Staff profile
The final product was realised through a successful Kickstarter campaign in 2017 (with support from over 180 individuals in over 15 countries). The result was a set of nine co-ordinated dice, sold as a set, and themed around five key creative areas; Plan, Unpack, Play, Develop and Craft. 
designdice™ was launched at the Birmingham Design Festival in 2018 and is now sold exclusively through the dedicated designdice.co.uk website (shipping internationally), and via Magma in London. The dice are supported by a series of guidance notes, together with a growing body of wider resources available on the dedicated website.They are a Registered Design in the UK, a limited company and have been written and spoken about in a variety of design journals and conferences (including AIGA, Design Week, FormFiftyFive, Graphik, GDEN, Werkwoche, and the Birmingham Design Festival).
Related research papers are available in Falmouth University's Research Repository (FURR):
Neal, Andy (2018) designdice™ GDEN2018 [w**ichcraft]. In: Graphic Design Educators' Network – W**chcraft, 6-7th September 2018, Northumbria University, Newcastle-upon-Tyne.
Neal, Andy (2018) designdice™ BDF2018. In: Birmingham Design Festival 2018, 7–10 June 2018, Birmingham, UK
The project has contributed to the creation of a new Cornish business, and has helped sustain a second business. It has been practically utilised by students in the UK and Europe on Graphic, Communication & Interior Design courses, and has been sold in over twenty countries worldwide. It can enable a student to develop hundreds of creative starting points in less than an hour, and then refine them into viable ideas. It works at undergraduate, postgraduate and professional levels and has been supported by seasoned designers with international reputations (inc. Jack Renwick & Gail Anderson).
The project is still evolving. Following the initial publication in 2018, designdice™ Ltd was established in 2020 as the formal mechanism through which the dice, the business framework and the future development will continue to grow. The ambition is to compliment the physical resource with digital products and resources that build on the core thinking in new and more adaptable ways.
A collection of images of designdice™ can be viewed below.