Steve Braund & Hannah Waldron asked the question: Could an illustrational mindset – one rooted within authorship – bring out personal voices, build trust and re-kindle a sense of worth and self-esteem in people experiencing mental health issues.   
Through weekly sessions across a calendar year, Steve and Hannah worked with the charity Chaos Group who support people with mental health issues. They explored how illustration, creation and collaboration could give individuals held back from healthy emotional experiences and confident communication a platform to find their own unique voice using trust, play, creativity and relationship building as the vehicles to do it. 
Central to the project was the concept of shared creative process, a 'thinking-through-making' in which weekly collaborative creative sessions allowed each of the participants' individual voices to emerge and feel empowered through the gradual encouragement to author personal stories. 
The project fostered individual authorial voices of its participants through a non-hierarchical, co-creation process, which witnessed a collective empowerment, demonstrating how this type of approach can act as a significant tool in the rebalancing of power for those with mental health issues who often feel disempowered.    
The project referenced, in particular, the recent research initiative Co-Creation publication (France), the paper Co-designing non-hierarchical community arts research: the collaborative stories spiral, and Jerome Bruner's social psychology research Life As Narrative. The results of the project were published in a co-created book 'CHAOS: A Co-Creation,' in September 2019.  
Stephen Braund and Hannah Waldron worked with a team of authorial illustration students who collaborated with participants of social services organisation and mental health care provider Chaos Group in the co-creation process, whereby the aims were to communicate the journey of those experiencing mental health issues and the efficacy of illustration in promoting wellbeing.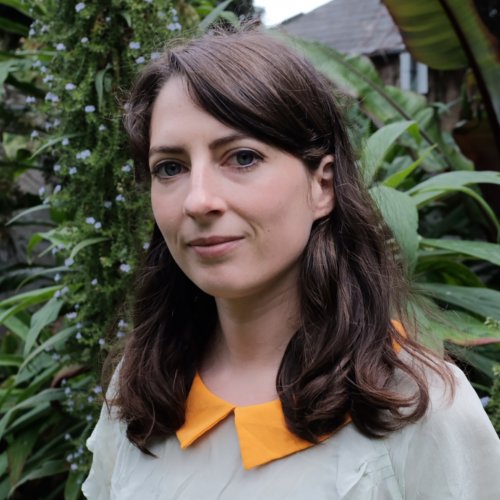 Hannah Waldron staff profile picture
Hannah Waldron - project co-lead
---
Hannah joined the MA Illustration team in 2018. Her graphic and narrative-led image-making has been applied across a range of media from print to textiles, at both a personal and architectural scale. Hannah's current research-led practice predominantly focuses on the potential of storytelling in textiles, and alongside a broad range of commissions. She regularly exhibits her work internationally and has won numerous awards for her work, including the HAY award in Denmark, the Irene Davies award in Australia, and most recently has become a Queen Elizabeth Scholarship Trust recipient. She co-lead the Chaos: A Co-Creation project with Stephen Braund.
View Hannah's profile
The personal outcomes for participants were described by the director of Chaos Group as 'remarkable,' helping some of the group take the step into formal learning. The illustrative pro-cess enabled both the participants, MA students and the senior lecturers gain insight into their own mental health, enhancing both emotional and social resilience.  
The overall process helped the group to learn to trust and explore feelings and thoughts in a safe and collaborative environment: overcome emotional barriers, learn to find the courage to speak in a group, share creative ideas using new and exciting mediums, work in groups and individually, learn to find a new way of communicating through imagination and storytelling, share ideas and listen to others, be non judgmental nor feeling judged, share personal stories and to explore all of this through their own art and interpretation.  
This book aims to contribute to research in the area of co-creation and socially engaged art practices, as well as functioning as a guide for others to learn from and develop new ways to tackle the causes of mental ill-health. An article about the project will be published in The Journal of Illustration in 2020, following inclusion in the 2019 Illustrating Mental Health conference at The University of Worcester.

CHAOS: A Co-Creation is being distributed by Atlantic Press and The CHAOS group, with copies being sent to other mental health providers and commissioners of mental health services, this has already led to the initiation of further collaborative projects between Falmouth's MA Authorial Practice students, and external organisations pursuing similar goals.

The illustrative process has enabled all participants to gain insight into their own mental health, enhancing emotional and social resilience, and has allowed all participants to develop skills in the area of socially engaged practices and co-creation.
An academic paper by Steve and Hannah was presented at the Illustrating Mental Health Conference at the University of Worcester in November 2019, which is pending publication in the Journal of Illustration.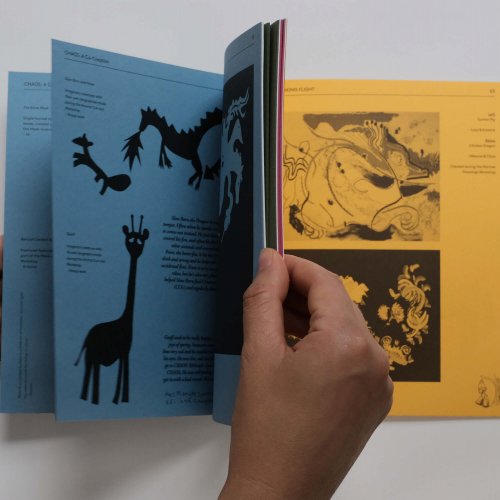 Chaos: A Co-Creation - flicking through pages
Project culminates in Illustration book launch
---
A collaborative project between Authorial Practice Illustration Masters' students and service-users of the mental healthcare provider CHAOS Group has culminated with a book launch. Read about the launch in this article.
Read news article