Universities Minister Visits Launchpad
24 May 2019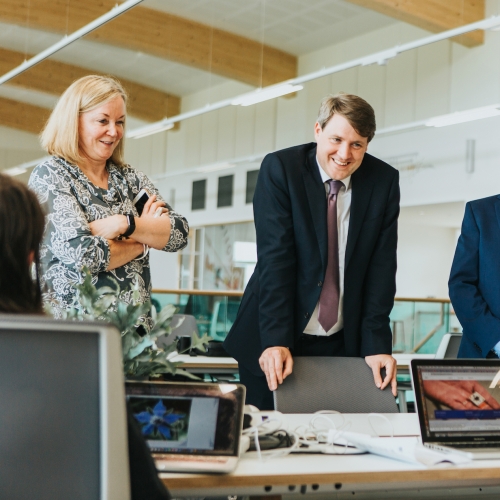 Chris Skidmore MP, Minister of State for Universities, Science, Research and Innovation, today (24 May) visited the Launchpad Programme, the innovative incubation and acceleration programme, hosted and delivered by Falmouth University.

He heard first-hand how the programme is supporting the next generation of tech innovators and entrepreneurs and driving the digital economy in Cornwall.
After a briefing from the Vice-Chancellor, Professor Anne Carlisle OBE, the Minister toured Launchpad and spoke to some of the businesses currently incubating before receiving presentations from two companies that incorporated last year.

Professor Carlisle said, "We were delighted to have the opportunity to tell the Minister about what we're doing at Falmouth University to help transform the economy in Cornwall by fostering high-value, high-growth businesses and jobs in the tech sector."
"It was great to hear his thoughts on the future of Higher Education and to discuss the importance of creative and digital skills, both now and in the future economy."

Nick Dixon, Head of the Launchpad Programme said, "The Minister was really interested in the diversity of the businesses that are being founded at Launchpad. From Codices, which is working with Amazon Web Services and Twitch to develop the next generation of live interactive gameshows, to Glas Data, an agricultural technology company that has developed an ecosystem which aggregates, compares and analyses data sources, Launchpad is about hothousing talent from across all sectors and retaining it in Cornwall."

"This is a game-changing model, offering a new way to deliver Higher Education, combined with an innovative reversal of traditional company incubation, providing new paths for creative graduate entrepreneurs. It was great to see the Minister engage so enthusiastically and insightfully with the Launchpad students."
You might also like