The King of Festivals
14 June 2018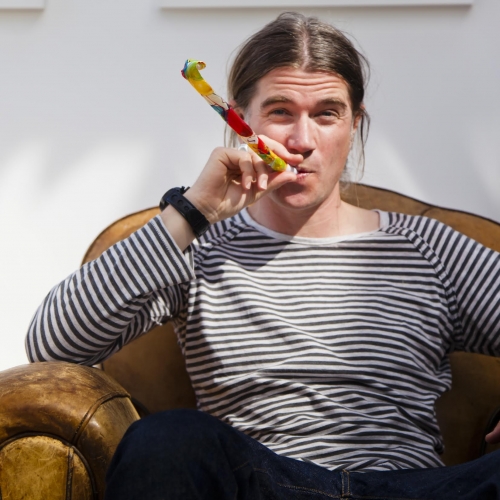 If anyone has their finger on the pulse when it comes to UK festivals then it's Rob da Bank. The DJ and co-founder of Bestival and Camp Bestival, recently visited Falmouth to deliver 'Bestival on Campus' sessions for Creative Events Management students. He's been going to festivals for the past 25 years, we caught up with him to find out more about what drew him in.
"I first went to Glastonbury with my wife Josie when I was 18," he says. "And I just thought it was the most incredible thing under the sun. I still think that about Glastonbury and about festivals.
"Why wouldn't you spend your summers sitting outdoors, listening to music and hanging out with your mates? It's the most fun you can have in the summer in the UK.
"Everyone's gradually cottoned on to this to the point where it's now all the rage. Twenty years ago it was seen as something for hippies and rockers but now festivals offer something for everyone, from small kids through to grandparents, and, for teenagers, it's become a right of passage."
Cornwall now boasts more festivals than any other county and it's not difficult to see why. With a potent mix of stunning outdoors spaces, a vibrant creative community and the 'wild' factor, it ticks most boxes in terms of what people look for in a festival.
As Rob says: "Cornwall has a lot to offer. It's an incredibly beautiful place and one of those classic places in the UK where everyone has been on holiday at some point, largely because it's so untouched and unspoilt. It's that wild British factor that people love and lends itself really well to festivals, especially now so many combine music with things like wellness, health and being outdoors.
"So Cornwall really brings all of this together. There's plenty of places in the UK where you just won't get that experience or be able to see the sea or be under wide open skies."
Protecting the natural environment and sustainability don't always go hand in hand with festivals. Bestival, however, has always been one of the leaders when it comes to reducing the impact festivals have on the environment and it's something Rob and his team take very seriously. Although it's a constant battle, they've put measures in place (and continue to do so) to ensure the beautiful spaces where festivals take place remain so.
With so many different festivals to choose from, not just in Cornwall but across the country, you're spoilt for choice. But what, we asked Rob, makes the perfect festival?
"Oh crikey, not one of my own! One where I can relax and enjoy it! I don't want to keep coming back to the 'G' word but Glastonbury is a really special place for me, I got engaged there and have been every year for the past 25 years. It's that cliche of a miniature town in a field with everything from top class restaurants through to wind powered magical things. I love it."
Some of you reading this might not have ever been to a festival before but if you're keen to try one out, here's Rob's top tip.
"Pace yourself," he says. "It's something I'm not very good at but it's a marathon not a sprint - unless it's a day festival. If it's a day festival get stuck in right away. Lots of people burn themselves out on the first night. Don't try and see everything either. I used to go to Glastonbury with a list of 20 acts I wanted to see but now I go and, even if I don't see anyone, I'm quite happy bumbling about."
You might also like