Students swap Italy for Falmouth to follow music career dreams
28 May 2021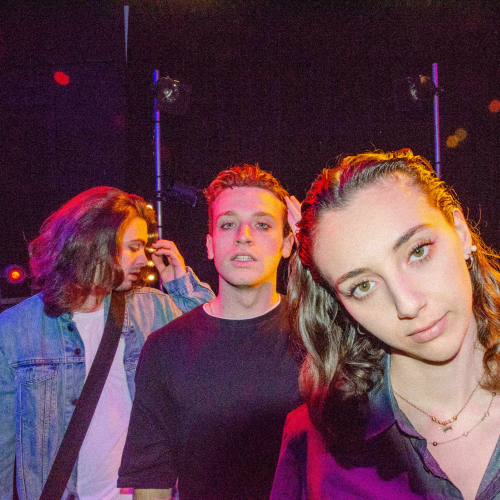 Second-year Creative Music Technology students Giulia, Giosuè and Andrea – aka electro-pop group KYMA – have had their debut single 'Lightning' featured by BBC Introducing South West. The BBC listed the band's track as their new 'FaveFind' just 8 days after their music video was released. We spoke to the group to learn how the Italian trio are pursuing their aspirations of making it big in the music industry.
*
Three years ago, Giulia Gamba, Giosuè Masoni and Andrea Rota were about to leave school in their hometown of Bergamo, Italy. The group had been friends for years and had harboured aspirations of entering the music industry from an early age. But figuring out a route to achieving their goals was proving to be a challenge. The trio wanted to move somewhere that had a strong social scene without having their creativity compromised by the distractions of a busy city; improving their musical skills was their top priority. Everything fell into place when the group took a trip to Falmouth in the summer of 2019.
"We came here and loved it straight away," recalls vocalist Giulia. "We could all see ourselves living here." The group quickly decided to make applications to Falmouth, and since being accepted onto Creative Music Technology, have never looked back. Now into their second year of the course, the group are already making an impression on the music industry, with their debut single 'Lightning' racking up views online.
Drummer Andrea feels that studying at Falmouth has helped improve the technical skills of the group enormously. "In my opinion, we've really developed in terms of production and how to build a song… I was surprised by how closely connected music theory and music practice are on the course. The assessments are all designed to help us develop our skills."
Studying abroad opens up your mind to new points of view, which is really inspiring.
It was while working on an assessment in their first year that the group were first given an indication that their music was on the right track. As Giulia tells us, "we collaborated on an assessment as a group and received a really good mark, with some great feedback. It was the first bit of confirmation that we were headed in the right direction."
But moving to Falmouth has done more for the group than simply improving their skillset. Changing their surroundings has helped inspire the group's creativity. As Andrea tells us, "Studying abroad opens up your mind to new points of view, which is really inspiring. Music is about inspiration and changing your environment really helps with that."
Giulia believes that moving to England was an important step towards realising their career ambitions. "Industry-wise, being abroad is much better than being in Italy. We're trying to reach a worldwide audience, which is also why I sing in English. I believe that by being here we can reach a wider audience."
The group already has plans to build on the success of 'Lightning' with a new single on June 18 and an EP release in the Autumn. You can follow KYMA's progress by keeping an eye on their Spotify, Apple Music and Instagram pages.
You might also like