Students publish Cornish skating magazine, 48to1
12 April 2021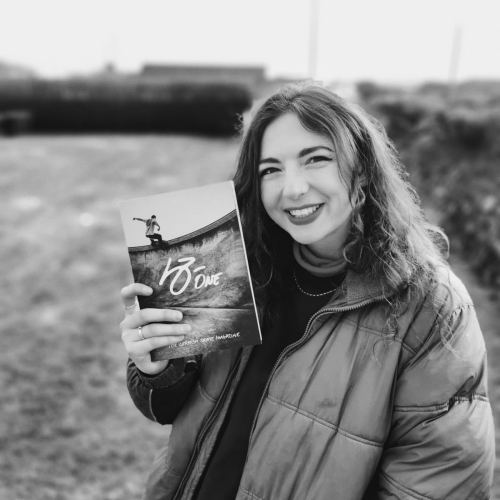 Graphic Design student Amber Rees and Press & Editorial Photography student Oscar Dryden have pooled their skills to create 48to1, a magazine that shines a light on the Cornish skating scene.
Amber, who is in the final year of her course, didn't want to miss out on the chance to collaborate with Oscar before graduation. "Last term we did collaborative projects and I thought it'd be such a shame if I didn't get to work with Oscar. I phoned him up and asked if he had any projects in mind, and he told me about 'Hidden Cornwall' – exposing a subculture that doesn't get the recognition it deserves. We decided to run with it and focused on skateboarding."
There are 37 skateparks dotted around in Cornwall – everyone seemed to be on a board when I got here.
While it doesn't get the same representation as the county's surf culture, the Cornish skating scene is strong. Oscar was surprised to see how many options there are for locals. "I only started skating properly when I got to Falmouth. There are 37 skateparks dotted around Cornwall – everyone seemed to be on a board when I got here. You make new friends and new connections every time you go out to skate."
After slowly embedding himself into what Oscar describes as "a really warm, chilled out" community, the pair took on the challenge of creating 48to1: a testament to the scene that they have become so closely intwined with. Amber wrote the articles, organised photo shoots and designed the magazine, while Oscar took charge of the photography for the project.
The 104-page magazine, which is a mixture of feature articles, interviews and photo-led pieces, was pulled together by the pair in just three months. They were even able to source advertising from local skating centre Mount Hawke Skatepark and place copies of their magazine in several local shops.
200 copies have already flown out the door. This is testament to a well sculpted Instagram page and word of mouth. "We've got plenty more copies in shops around Cornwall" Amber tells us, "they're all due to open soon, so hopefully we can sell a few more."
To have created an industry-standard publication in such a short time demonstrates the students' dedication to their project. Oscar admits that the workload led to "a few sleepless nights" and Amber describes running from interview to interview in the late hours of winter evenings as interest in their work gained momentum.
The hectic schedule was all part of the thrill, though. The duo loved the experience of creating 48to1. According to Oscar, "it didn't feel like work at all. It was just something that we wanted to do."
The pair are planning on releasing a second issue in the near future. "We want our next issue to feature skateboarders who also work as creatives. A lot of people might refer to skateboarding as art, but we're literally going to explore artists who are also skateboarders," says Amber.
If their first issue is anything to go by, 48to1 has an exciting future ahead of it.


You might also like