Students in Jamfuzer Game Jam
14 April 2020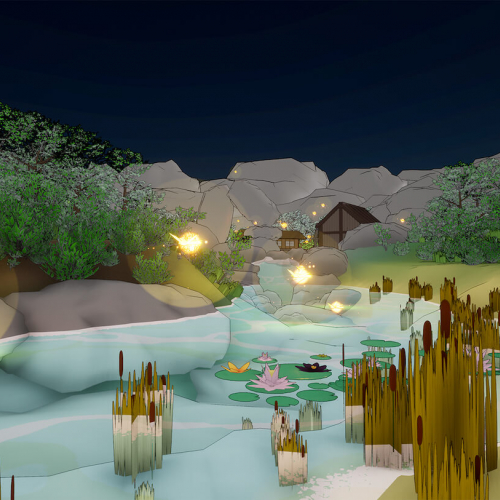 Games Academy students took a break from their development projects a few weeks ago to take part in the Jamfuzer game jam. Game Jams are time-limited exercises where student teams make games in a tight time window around a particular theme. This time the theme was 'Leap' and the time available was 72 hours. Twenty-seven teams from universities around the UK entered, and every team got essential, constructive feedback from Games Industry judges. The contest is connected to the government funded Tranzfuzer games incubation scheme, which was also won by a Games Academy team earlier this year.
Games Academy Director, Dr Douglas Brown said, "Game jams like Jamfuzer are great for students to get involved in. It challenges their capabilities, develops their skills and provides a great opportunity to experience collaboration in teams. The fact that the games are public and playable, and that students gain lots of feedback from leading industry judges is an added bonus and incentive to do well. It shows what great games our students can achieve in the real world if they can create these in just 3 days!"
Several of the games have been polished up and made available, so here are some examples of what our students can do in a tiny timeframe.
Leap of Fish
Placed 2nd in the overall competition was Leap of Fish!
Leap of Fish allows you to experience life as a flying fish searching for food, every bug you eat allows you to move faster and jump higher, opening the world up for exploration. Play Leap of Fish.
One judge commented : "Stunning visuals and good audio creates a wonderful atmosphere. Commerically, with a lot of polishing, you can imagine a game which feels as beautiful and relaxing as Flower to play…I would love to play this again with controls which feel as fluid as the Dreamcast version of Ecco the Dolphin. The visuals and audio are already fantastic!"
Congratulations to students:
James Moyse - Lead Designer and Programmer
John Garcia - Designer, Sound Designer and UI artist
Andreea Christiana Papuc - 3D Artist and Logo Creator
Christopher Katunda - 3D Artist and VFX Artist
Robert Doman - 3D Artist and Level Designer
Minds and Monsters
Coming 5th was Minds and Monsters, great fun to play.

A fledgling adventurer has set foot into his very first quest and it is up to you to manage his anger, fear, confusion and doubt in his search for fame and treasure. Play Minds and Monsters.
Judges comments included: "This was made in a game jam? Not only is there some serious polish in this game, you've built a unique core mechanic. The idea of using the four 'emotions' as both help and hindrance was one that felt complex but was in reality quick to pick up. Your visuals were really nice, humour felt just right and the audio felt like it received a lot of love compared to a usual game jam game."

Well done to students:
Max Amaden - Programmer.
Jake Whittaker - Sound Designer and Pixel Artist.
Barbora Smirinova - UI and Card Artist.
Chris Jones - Designer and Card Artist.
Freefall
Still in the Top Ten overall, Freefall came in at number 9. It needed some polishing still but had real potential.
Freefall see gamers skydiving through a dreamlike futuristic cityscape. Play Freefall.

One of the judges said: "When I began and saw the quality of the character, the atmospherics, the cool building style and then the cars I was in love with this game, it left me wanting more, a distance of how far I had fallen, something that made the game more difficult as I went on, I even struggled to kill myself in the end. I really, really like what you have here, I think it's definitely worth spending a bit more time polishing those bits, and when you do let us all know because I'm sure I will play this game to death against my friends!"
Well done to students:
Aaron Thearle - Designer, Programing and Sound design
Robbie Wastell - Designer, Environment artist and Sound design
Johan Holm - UI artist
Find out more about the Games Academy