Student takes home sustainability award at Interior Educators 2022
02 August 2022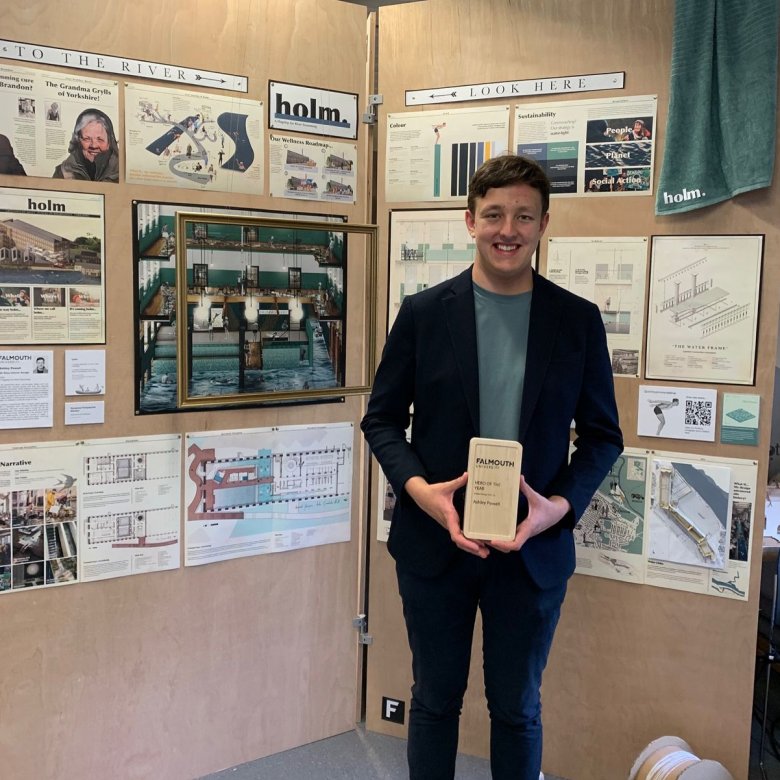 AP Holm
What inspired your designs for holm?
holm was inspired by the huge water pollution issue in rivers, streams and lakes across the country and the idea really formed after I read a news article on the community effort to clean up the River Wharfe in Ilkley in Yorkshire. I questioned if through an adaptive reuse approach, I could bring together communities for wild swimming while also improving water quality.
The design itself is rooted in the context and history of site, for which I chose a historical cotton spinning mill called 'Greenholme Mills' on the banks of the River Wharfe, which was at one point one of the country's largest water powered textile mills. Designed elements focus on enhancing connections to the surrounding natural environment by allowing nature to inhabit spaces such as the goit, while other elements such as 'The Water Frame' bridge take notes from the design of historical cotton spinning machinery that was used in the mill.

Why is it important that we embrace sustainable designs?
Sustainable design and thinking is incredibly important. Our industry has for so long promoted a throwaway and destructive attitude to architecture and creating spaces. We must challenge traditional methods and thinking and learn to work with nature, not against it.
As we've seen recently with soaring heatwaves across the UK, our surrounding environments are rapidly changing. Thus, to fully embrace sustainable design we must not only look at sourcing sustainable materials and resources but design to adapt to the changes that are already occurring due to climate change. In the past few years alone, even during my time at Falmouth, it's been reassuring to see a much greater focus on sustainable thinking with suppliers championing initiatives such as cradle to cradle and designs that consider what happens to materials post-use.
 
What's next for you now that you've graduated?
As you might have seen I have spent a lot of time and consideration in storytelling of my brand, holm, creating everything from its values to how the brand is communicated through the interior and the look and feel and sense of place.
With the incredible support of my lecturers, I have accepted a job as a 3D Designer in London creating brand environments and experiences.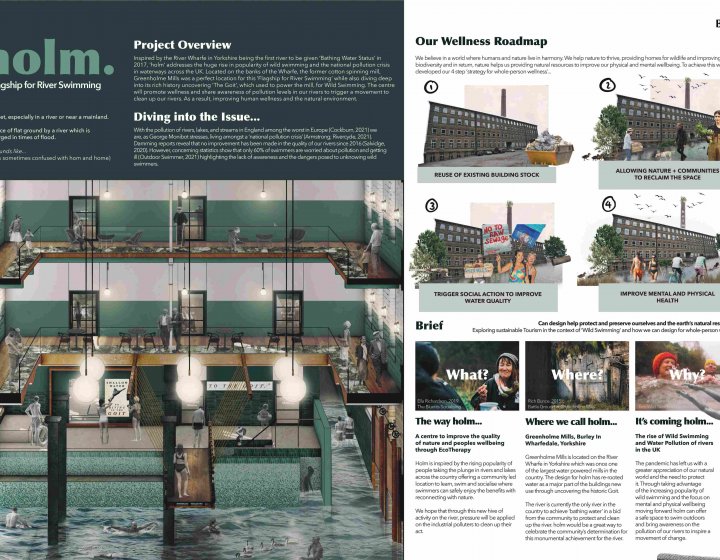 Ashley Powell
Ashley Powell, holm.
For projects which address climate change, energy use, resource depletion, biodiversity and other ways in which people can live within the Earth's natural limits.
Ashley Powell, holm.