Student reaches final of international design award
25 March 2021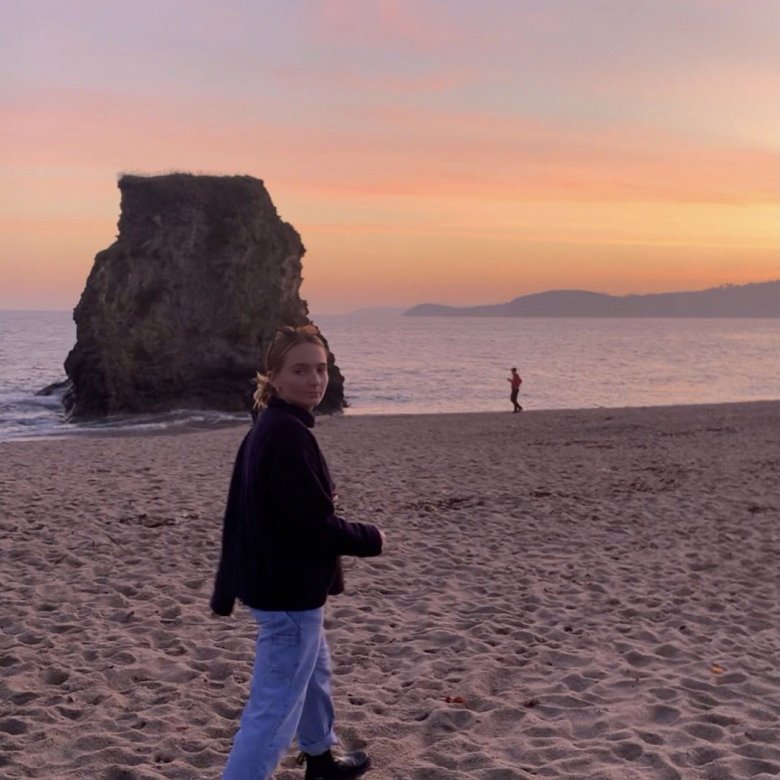 Matilda Sunset
Third-year Sportswear Design student Matilda Shields reached the finals of the 2020 Woolmark Company and Helly Hansen performance challenge. 
Over 350 participants from 20 countries responded to Woolmark's live brief, which asked entrants to create a sustainable garment that would suit the challenges of ocean sailing. With a view to reducing the impact on marine environments, entrants were asked to consider how merino wool could replace oil-based fibres in modern, highly technical sailing clothing.
The challenge was set against the news that as much as 35% of microplastics in the marine environment are fibres from synthetic clothing. Natural fibres, like those found in merino wool, are biodegradable and therefore offer a far more sustainable solution.
Given the quality and volume of submissions, Matilda was thrilled to find herself selected in the top ten. "I was quite shocked to be honest! I got a chance to meet the other finalists virtually and the majority of them were MA students. I'm really proud to have been included in the final ten as an undergraduate student."
Ultimately, I was designing to reduce the need to consume. 
Matilda designed a multi-purpose bib and brace for women who work at sea. As a keen surfer, she arrived at the idea of creating a sailing garment in an unusual way. "I was reading Cornish surf magazine Wavelength, in which I discovered a tribe of people who sail to surf destinations to reduce carbon emissions. I thought it was such an interesting idea, and then I found two women who do exactly that in Falmouth – they even built their own boats!" 
The women in question, Amy Stringfellow and Chloe Peglau became the inspiration for Matilda's project. As Matilda explains, "my passion for surfing is my drive for lots of my creativity, and I'd somehow found a way of incorporating that into a sailing brief."
With an idea in mind, Matilda began mapping out her conceptual process. Her aesthetic was informed by function, having discovered that the pattern cutting of women's workwear had barely changed since the female boat builders of World War II. As such, Matilda scrutinised traditional workwear and knitting structures as her vision for the bib and brace developed.
"Ultimately, I was designing to reduce the need to consume", Matilda explains. "This was an item made for longevity. It is designed by women for women with the female boatbuilder/sailors' figure in mind. It had increased mobility without compromising waterproofness."
At Falmouth we do lots of presentation work but presenting to industry experts instead of your peers really ups the pressure!
Matilda's design stood out from the crowd. After catching the attention of a highly esteemed panel of judges, she was shortlisted as a finalist for the competition. From that point, Matilda chose a range of accredited industry professionals to help develop her work.
"In these one-on-one sessions you pitch your design and talk to them about how their expertise can help inform the designs", Matilda explains. "After that, I was interviewed and made my final presentation."
Matilda believes that the industry experience she has gained from her Woolmark entry will allow her to succeed after graduating from Falmouth this summer. "At Falmouth we do lots of presentation work but presenting to industry experts instead of your peers really ups the pressure! I learnt a lot, and I'm looking forward to following my passion for design aligned with surfing after another season lifeguarding on Fistral beach."
Helen Skinner, senior lecturer for Sportswear Design, was thrilled to see Matilda excel in her final year of the course. "This is an amazing achievement for Matilda. To be selected from 352 global competition submissions and reach the top ten projects for consideration is truly an incredible achievement. I am extremely proud and delighted for Matilda."