Role at Red Bull Kicks Off Graduate's Career
26 February 2020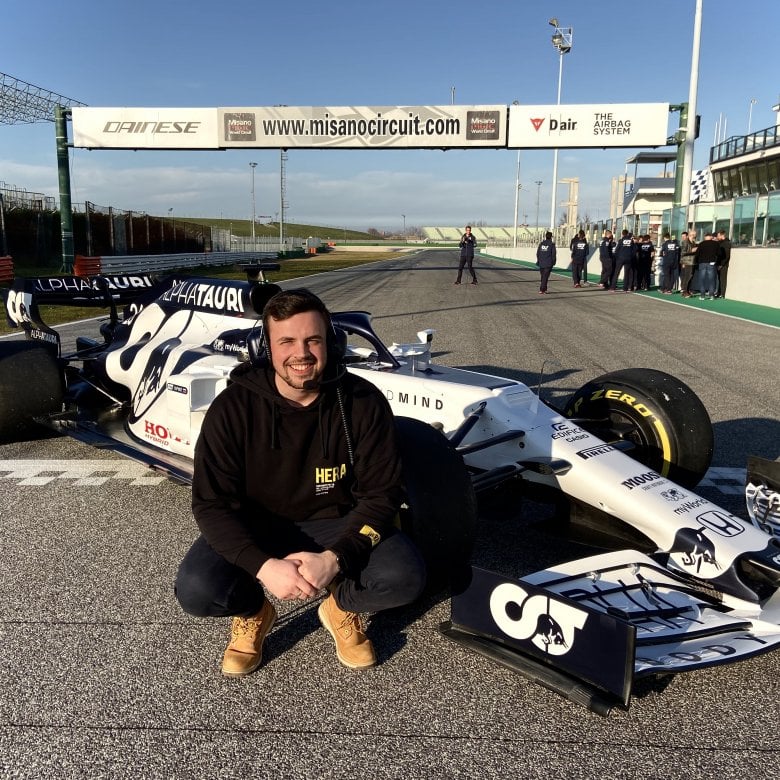 Marine & Natural History Photography grad Elliott Harrison
Elliott with the brand new Scuderia AlphaTauri Formula 1 car at a filming day in Italy
Elliott Harrison graduated from Marine & Natural History Photography last summer, after a six month internship at Red Bull he was offered the role of Junior Producer. We recently caught up with him to find out more...
How did the role come about?
After a few weeks of my internship I knew that I wanted to stay on at Red Bull and I made that clear from the get-go. I would always say yes to a task even if I thought I would struggle with it, as I knew I would get the support I needed to complete it to the best of my ability. By putting my head down and working hard, along with the help of the team around me I was lucky enough to be offered the position of Junior Producer in the Special Content Projects department.
What kind of things do you get up to as Junior Producer?
I am currently producing media packages for some of our high profile athletes who will be competing at the 2020 Olympic Games. These assets contain a lot of Red Bull archive footage with the addition of freshly shot interviews with each of them. One of the most difficult tasks has been trying to secure time to interview all 30 athletes who have very busy schedules all around the world. These packages will be distributed to various global media broadcasters before, during and after the Olympics.
I am also working on two new series that will air on Red Bull TV around May/ August this year. As a Junior Producer I will also assist on various other projects such as a filming day for one of Red Bull's two Formula 1 racing teams, Scuderia AlphaTauri (previously known as Scuderia Toro Rosso).
What's so great about working for Red Bull?
I personally really like branded content and Red Bull does a lot of it. I enjoy the diversity of projects that I have been involved with - not one has been the same - from producing media packages from our archive to filming Formula 1 cars with Red Bull Helicopters.... I have been allowed to take on projects that I might not have had the opportunity to do at other companies, and I work with some really talented people from all over the world. Red Bull HQ isn't in a bad part of the world either, Austria is beautiful. It's not bad getting to go snowboarding every weekend!
Are you based in Salzburg permanently now?
Yes, and I love it! Red Bull is an Austrian company and there are about four office sites around Salzburg. It's very quiet but I guess that's similar to Falmouth.
What do you miss most about Falmouth?
A night in Mangos... followed by a Wetherspoon's breakfast! However, although they have all moved away I miss the friends I was around on a daily basis. I do miss my tutors as they helped me a lot to get me to where I am now. I will always miss it as a town and I will always be pushing to come back and visit. I wouldn't have changed the choice in university in a million years.