Photography Grad Becomes NatGeo Explorer
3 June 2019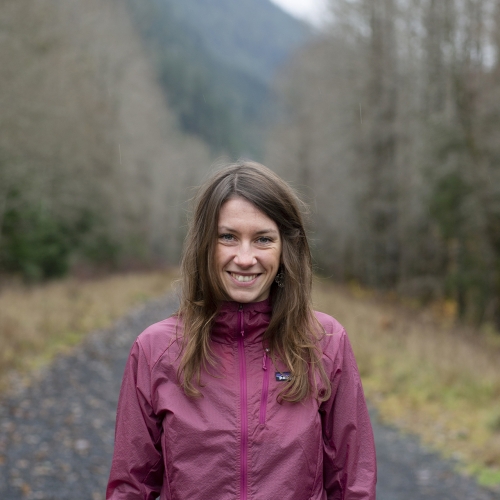 Amy Romer has been making some serious waves with her photography. Since graduating from BA(Hons) Press & Editorial Photography in 2016, Amy has landed a publishing deal for her first photography book and has been awarded a highly coveted grant from National Geographic, which she'll be using to document the decline of Pacific wild salmon.
Shortly after graduation Amy moved to Canada, where she has been working for a new photography museum in Vancouver, BC, while building her personal portfolio of work.

Her photography book, The Dark Figure*, was Amy's third-year project. It documents and raises awareness of modern slavery in Britain and is being published by Another Place Press, a small independent UK publisher that showcases contemporary landscape photography.

Amy's slavery project is already being used by the UK Home Office, the British Police, UK Councils and NGOs, as a training resource to help identify how to spot the signs of slavery.

Amy told us: "Working on The Dark Figure* book with Another Place Press has been fantastic; a lot of fun. I made a lot of improvements to the writing and it now feels complete and at a point where I can put it to bed. And how great is it to be able to put it to bed on a bookshelf?! I feel very honoured to have been given this opportunity."
The Dark Figure* project has also picked up attention in The Guardian and New Review.

While working in Canada and publishing her book, Amy has also been applying for grants.
"I am lucky to have received an Explorer grant from National Geographic," Amy told us. "Over the next year, I'll be carving out a story about the decline of Pacific wild salmon – one of Canada's most valuable natural food resources and a fish that is deeply embedded in the culture and identity of the First Nations people of Canada."

When asked what it was like to be a NatGeo Explorer, Amy said: "It's fantastic and very exciting to be awarded money to go shoot what I choose. I have a lot of freedom, but it's a balancing act – trying to make the best of the opportunity, while also earning a living. Summer will be a challenge, as this is when a lot of my field work needs to happen."

"It's like an intense juggling act," she told us. "Exciting, but also trying not to drop the balls!"

In the future, Amy plans on working as a freelance photographer. She said: "The dream (of course) is to be taken to many places and see many things, and hopefully do some good along the way… Not a simple task, but one that I think is possible!"
You might also like