Lecturer's Kaleidoscopic Exhibition
03 March 2020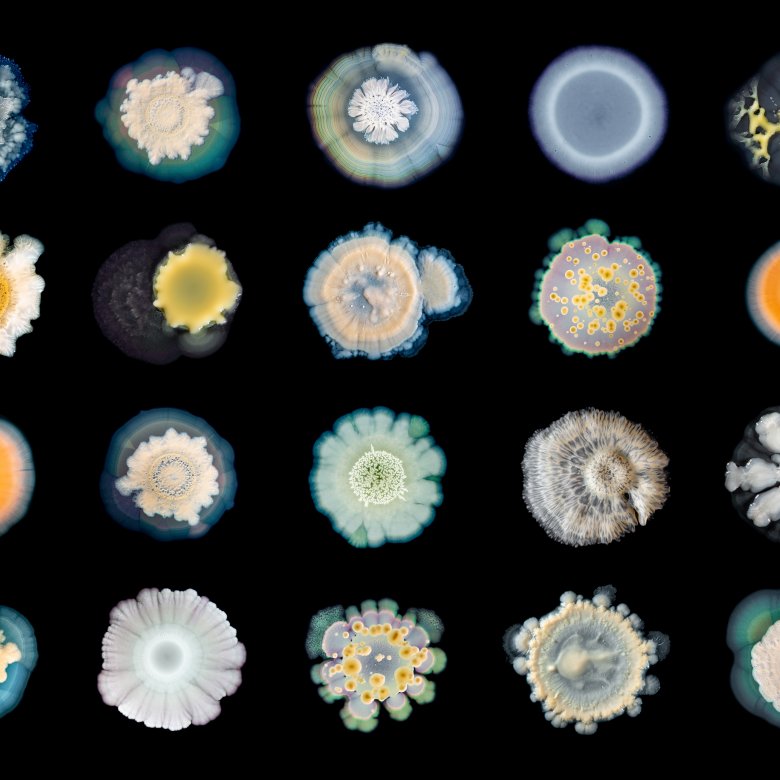 IoP_TC_Exhibition_SISOSIG
A collaboration between Dr Tim Cockerill from our Institute of Photography and Dr Elze Hesse from the University of Exeter's Environment and Sustainability Institute (ESI) has resulted in a stunning exhibition that offers a fascinating glimpse into the colourful and often kaleidoscopic world of bacteria, hidden out of sight throughout the distinctive Cornish landscape.

Tim, a photographer and science communicator, specialises in the art of macrophotography – producing photos of small items in larger than life prints. His work centres around 'championing' organisms that are often overlooked because of their size.

Elze, a Research Fellow at the ESI, specialises in studying how species interactions are affected by environmental challenges.

For their collaboration, Should I Stay Or Should I Go?, Tim and Elze have been carrying out testing on Paenibacillus - a bacterium often found in soil - to determine whether social cues from other species affect swarming behaviour – where new cells are directed to uncrowded areas rich in nutrients.
Tim says of the exhibition, "My background spans the sciences and arts so the chance to collaborate with Elze on this project has been a wonderful opportunity. The idea of bacterial colonies can often be viewed as a very negative thing, but we hope this exhibition offers a chance for people to see the true natural wonder and beauty that they possess."

Elze added: "Throughout my career I have always been interested in how environmental change may alter the strength and nature of species interactions and how we can manipulate these interactions to our own benefit.

"With this exhibition I hope to demonstrate that microbes display complex social behaviours, the nature of which can greatly impact our personal and collective well-being – it determines microbial virulence, growth and antibiotic resistance."

Should I Stay Or Should I Go? is open for public viewing at the University of Exeter Environment and Sustainability Institute, Penryn Campus, from Friday 28 February to Friday 3 April - Monday to Friday 10am-5pm, admission is free.