Lecturer contributes to V&A Africa Fashion exhibition
18 August 2022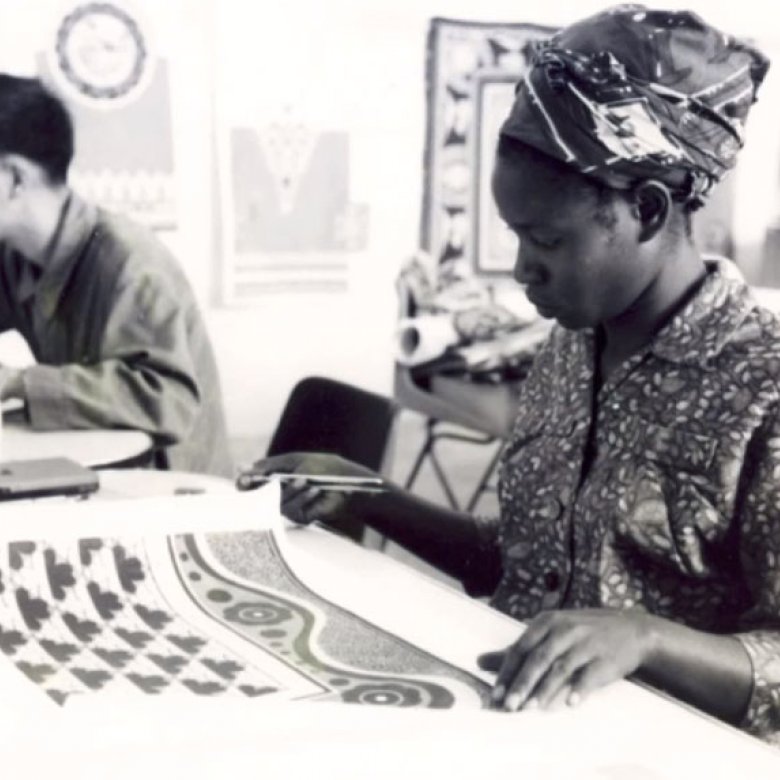 Textiles woman
Senior Lecturer in Textile Design, Dr Simon Clarke, has seen his work featured in a landmark Africa fashion exhibition at London's V&A Museum, which is set to tour venues in both the US and Australia.  
Dr Simon Clarke's featured work includes two iconic pieces from his East African textile archive and two related photographs from his African photography archive, which are set to travel to the US and Australia as part of additional exhibitions in the next two years. 
Dr Clarke was approached by museum curators in 2021 in relation to his extensive doctoral research, photographs and archive materials relating to Kanga cloth – a special type of cloth worn by women in East Africa.  
The materials and photos featured are taken from field research in Tanzania and the kanga design depicts politically significant motifs, pattern and text which commemorate the signing of the Arusha Declaration in 1967 - a document published by Tanganyika African National Union (TANU). 
Simon's materials help tell the story of African independence and the liberation years that sparked a radical political and social reordering across the continent.  
Simon's kangas' on display in the exhibition are in fact a re-print to commemorate 35 years since the Arusha Declaration and were acquired at a market stall on Uhuru Street in Dar es Salaam, 2002. 
The Arusha Declaration text offers a valuable insight and perspective on the socialist ideology at this time:  
It is a commitment to the belief that there are more important things In life than amassing of riches, and that if the pursuit of wealth clashes with things like human dignity and social equality, then the later will be given priority … – Julius Nyerere, President, Tanzania. 
The displayed cloth contributed to the exhibition forms part of a collective of commemorative and political cloth. Notably, one printed in South Africa displays a portrait of Nelson Mandela at the time of Apartheid's fall. 
Speaking after the launch of the Africa Fashion exhibition, Dr Simon Clarke said:  
"It's an honour for my work to be included in such a wonderfully produced exhibition detailing the history of Kanga cloth. This is a ubiquitous item of material culture and culturally potent, mutable printed cloth worn by women throughout East Africa and in particular on the Swahili coast. These materials really help paint a picture of the culture, and politics of this region. 
"My work with V&A researchers in relation to Kanga cloth and my archive run in parallel with the development of a new book I'm writing on South African photography. Both these streams of work offered a chance to explore relatable African discourses such as colonialism, apartheid and struggles for independence."