Labelling Success
30 May 2018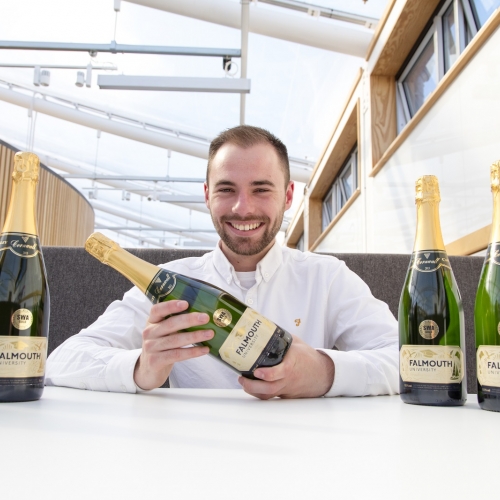 The best entrepreneurs are those people who have the ability to see an opportunity when it presents itself, seize it and turn it into a success.
For Business & Entrepreneurship student, George Bewley, this opportunity came to light the summer before he began his degree.
"I was at my sister's graduation in Falmouth," he says. "And I noticed there was a distinct lack of things to take away or remember it by. I started thinking that maybe there was a gap in the market here to enhance the graduation experience, especially if there was personalised champagne to buy and keep."
Fast-forward nearly three years and George now runs Bewley & Ware, the company he set up as part of his course which specialises in creating bespoke labelled wine and packaging.
"I started speaking with Camel Valley, a fantastic wine producer in Cornwall, about putting bespoke labels on their wines," he adds. "For them, it was the chance for exposure to a wider market, with students here coming from all around the globe. For me, it was the chance to combine brilliant local wine with the need to add that extra special touch to the graduation ceremony.
"It's been a great success. During the first graduation week we sold double the amount of wine we'd initially ordered with most people buying two bottles, one to drink then and one to take away with them. One of my highlights was presenting our Chancellor, Dawn French, with a bottle. I'm now at a point when, after I graduate, this will become what I do full time."
George's plans for growth centre on encouraging more universities to do the same thing while also expanding into corporate events and approaching a range of different businesses who see the value in having their own branded wine or champagne.
Alongside the success of the business, being able to learn at the same time has been an essential ingredient in George's success: "I've always liked the idea of learning something for real and trying it out, that's what this course has given me. I've had the time to discover what works, what doesn't, what I'm good at and what I enjoy."
Find out more about BSc(Hons) Business & Entrepreneurship
You might also like