Interview with Double Award Winner Jessie Dickinson
7 February 2019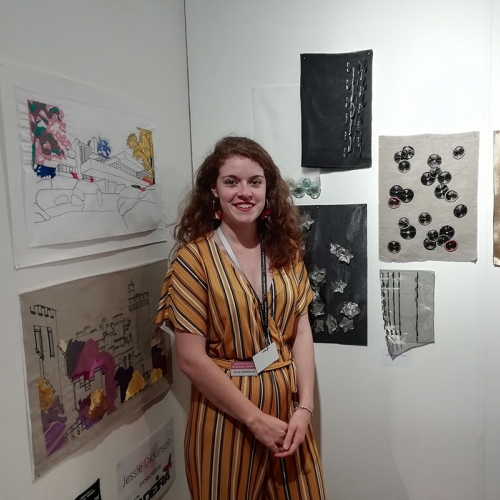 Since receiving two highly competitive awards for digital embroidery, Jessie Dickinson, 2018 Textile Design BA(Hons) graduate, has been working with esteemed costume designer Catherine Avison, creating embroidery for two upcoming Disney films and The Crown Season 3 for Netflix. She's also been exhibiting her work at several embroidery shows.

With her two awards, the Wilcom Digital Embroidery prize from New Designers (an established student exhibition), and the Wilcom Digital Embroidery Award from Hand & Lock (the oldest embroidery company in the UK), Jessie has been launched into the industry.
In this interview, Jessie tells us about the work that won her the awards, why she chose digital embroidery and how it feels to be fresh out of university and already racing ahead.

What work did you submit to win the Wilcom Associate Prize at New Designers?

In order to enter the Wilcom award, I exhibited my work at New Designers, where the European Director of Wilcom walked around interviewing potential candidates.

On display, I had both of my third-year projects, which centred around digital embroidery. The first project was an illustrative project inspired by the drawings of architect Frank Lloyd Wright. Using a combination of geometric line drawing and pops of colour, I produced embroideries of buildings that evoked emotion or memory in the person it was for.

My final project used digital embroidery to create three dimensional structures inspired by plants. The concept was air pollution and the dangers we face as the situation gets worse. To push this concept home, I incorporated fibre optics and LEDs into the plants to create the illusion that they were being kept alive by technology. For this project I was also able to collaborate with Michelle Facey, a (then) third year fashion student, and we produced a bell jar that supported my plants. It was a perfect way to display my 3D plants.

This is also the piece that I entered into the Hand & Lock competition.



How do you approach new projects?

The start of a project for me is all about getting stuck into technique and experimentation. I love finding a new stitch or a bead that inspires me to push it further. I ask myself: what can I do with this technique that no-one has done before? How can I take a stitch I know, and combine it with something new, or with something I already know, to create something else? I'm driven by texture and finish, mixing different finishes to achieve different textures.

As for subject matter, I'm all about picking something you enjoy researching and learning about. For me, that's architecture, structure and botany.
Why did you decide to go digital?

I chose to specialise in digital embroidery because I saw an opportunity to try something new. I want to explore making digital embroidery bespoke and three-dimensional.

The opinion that digital embroidery is 'always quick and easy' needs reshaping. Design work that goes into it can be lengthy and complicated, with many failed attempts. Just because it takes seconds to push a button to make it go, doesn't mean designing it also took seconds.

How did Falmouth prepare you for the industry?

Studying at Falmouth did so much for me. It boosted my confidence, allowed me to hone my skills and to experiment with my work. I was able to play with techniques and equipment that I otherwise would not have had access to. The tutors and technicians were attentive and willing to teach us new embroidery stitches, or suggest relevant artists to research. Without them, I wouldn't have got through university.

Falmouth also improved my independence. I was able to get a three-month work placement in Manhattan, New York. Travelling out there was really daunting. It was not an experience I'd have had the confidence to look for myself, so I am incredibly grateful that I got the chance to interview for a placement like that, let alone actually go.

Following your two awards, how does it feel to now be working with Catherine Avison on the two Disney films and The Crown Season 3?

It feels like I've accidently landed on my feet. Straight out of uni, I suddenly have these two big companies to list on my CV! It's a really good feeling, and I'm so grateful.
You might also like