Interior Design Student Wins Prestigious Award
11 December 2018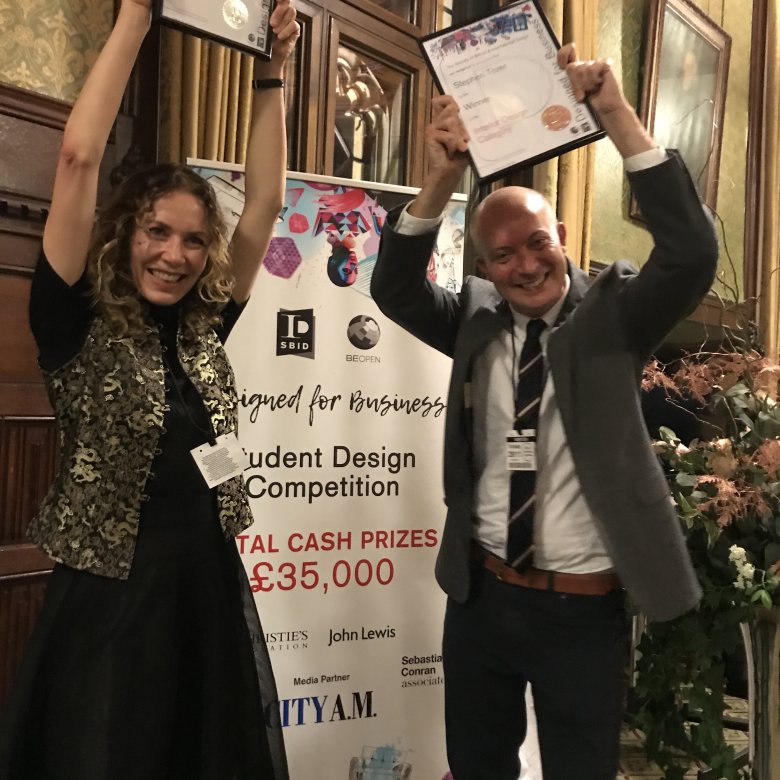 Jean and Stephen SBID award win
Stephen Tozer, 2018 Interior Design graduate, has won the Interior Design category at the annual Student Design Competition run by the Society of British and International Design (SBID).
Students enter their final year project and in this way, the award recognises new talent, as well as nurturing relationships between students and the working industry.
Stephen was awarded with the prize at a ceremony at the House of Commons in London.
His final design project, which scooped him the award, is a community house for young people who have been (or are in) the social care system. The Gas House was designed by Stephen to be a base for young people to call 'home', within a nurturing and supportive environment, where they can gain confidence and independence.
Delighted, Stephen said: "I was really surprised to be selected as a finalist and was pleased to have made it as far as the awards ceremony, so to actually win my category took it to another level!"
As part of the submission, students were asked to nominate their tutors for the Visionary Tutor award. Stephen nominated Jean Whitehead, Senior Lecturer in Interior Design, for helping him to push the boundaries, question his work, think harder and more creatively about design, and to use inspiring and innovative case studies for his course projects.
Jean said: "We are both delighted to have won and be recognised by our industry peers. 92 universities entered, so it was a pretty competitive process. It is undoubtedly great news for the course, to have both the quality of our teaching and the work of our recent graduates recognised and regarded so highly."
Stephen added: "It was brilliant that Jean Whitehead won the Visionary Tutor award. Without her guidance and support throughout my degree, there is no way that I would have pushed myself as far as I did."
Receiving the award was a big moment for Stephen, who said: "It was such an honour to win. For me, as a mature student, having taken such a big risk in changing career and going back to education, the win helped to show that I had made the right decision."
The next student competition by the SBID will open for submissions in Spring 2019.