Graduate Thriving in Front and Behind the Camera
27 June 2019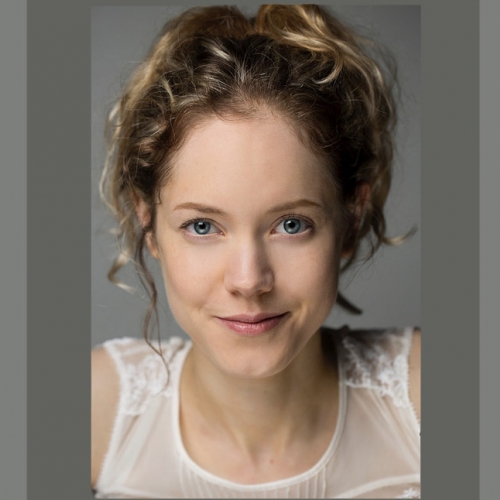 When Katherine Press, a professional actress, started her MA in Film & Television, she was used to being in front of the camera. She yearned, however, to "explore things on the other side of the lens" so she enrolled on the MA to kickstart her work as a producer.
Since graduating in 2017, Katherine has thrived both on and off screen. She's currently attached as a lead cast member and Associate Producer in a female-led sci-fi film being developed by Audiomotion Studios, a multi-award winning, multi-stage studio specialising in motion capture for the Game Development, Film and Television industries.
This is Audiomotion's first production to be created entirely in-house. Previous productions that it has contributed to include: Ready Player One; A Monster Calls; the Harry Potter series; Star Wars: The Last Jedi; Maleficent; Dr Who; Far Cry 3; Horizon Zero Dawn.
Katherine told us: "Our proof of concept trailer is currently in the final grade – it's hugely exciting to see this newly developing technology in action. And I'm thriving on the chance to combine my acting and producing work.
"I've also been lucky enough to produce a number of short films and my latest project, BFI-funded A Noble Truth, has just wrapped. I've also been accepted as a member of the BFI NETWORK x BAFTA Crew and am looking forward to the development opportunities offered by the scheme."
During her studies, Katherine began working for John Yorke (ex-Controller of BBC Drama and Head of Channel 4 Drama); alongside her current work, she continues to moderate his screenwriting courses and write regular features for the John Yorke Story blog.
Katherine explained: "This gives me access to events such as the London Screenwriter's Festival, where I have the chance to pick the brains of the great and the good of the writing world. Some of my own scripts have also progressed well in a number of screenwriting competitions, and I'm currently developing my first short film screenplay."
"Perhaps most satisfying of all," she added, "is that I'm gradually building up a team of trusted fellow filmmakers and collaborators. I have a strong commitment to working with diverse, particularly female, talent. Stepping across the production divide has enabled me to play an active part in redressing the balance – supporting projects and individuals who may previously have struggled for exposure and helping get their stories on the screen."
Katherine's next job is a three-month contract with the BBC Radio Drama Company in London, where she'll be working as one of its in-house actors, "fitting post-production in between studio sessions" – she's going to have a busy few months ahead!
You can find out more about Katherine here.
You might also like