Graduate Finalists in Nike Sustainable Design Challenge
17 January 2019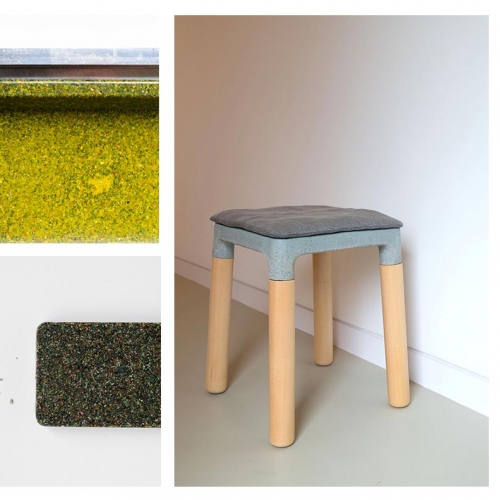 Three forward-thinking Falmouth graduates have created a sleek set of modular furniture and won a prestigious spot as finalists in an international competition run by Nike.

The Circular Innovation Challenge called for designers, engineers, scientists and makers to help create new products using its waste materials.

The global brand is pushing sustainability and recycling through the challenge because "We believe the future needs a more circular economy – a world in which materials can be used and reused, transforming the way we think about waste, so that it becomes a source value."

Max Ashford, Sustainable Product Design graduate and owner of sustainable furniture company 'Greeb', came up with 'Stuffed', a small collection of furniture, in collaboration with fellow graduates Harry Ingrams (Graphic Design) and Lucie Pendered-Mazer (Sportswear Design).

When asked how it felt to be finalists in such a high-profile competition, Max said: "It feels good, especially being up against some other really great projects that didn't get through. It was a tight project and we put a lot into it. It's satisfying seeing the hard work pay off."

The 'Stuffed' team were one in five groups selected as finalists in the challenge, all of which share a keen interest in sustainability, eco-friendly design and circular production.

Max explained why sustainability was so important to him: "Everything we do as humans from this point really has to be acting on cleaning up the way that we live. It has been unsustainable for years and we are already experiencing the effects. But we see it as a challenge, and design is about responding to challenges or faults."
He continued: "Often pressure is needed to spark the best innovations and there is some serious pressure on humankind. It's an incredibly exciting time to be a designer or innovator. What we do as a company is work towards creating products that have a more beneficial impact on the environment – this is what is needed now, to sustain life."
Max, Harry and Lucie are planning to continue working with Nike's Grind Rubber Granulate waste materials, developing the project and producing a line of products. For Nike's challenge, they not only created the furniture set, but also found a way to reform the materials into an eco-friendly composite that could be used as an alternative to plastic.

Max told us: "The challenge isn't really over yet. We have a serious amount of designing and testing, plus sourcing financing, to get the project to a point we will be really pleased with. Any projects of this nature – that are pushing sustainability, particularly with waste – are beneficial (even if they fail), as the learning process towards making our product systems and economy are an invaluable learning process."
Max attributed some of their success to their studies: "Falmouth is an incubator for positive innovation. [Our] studies allowed us to be quite specialist within our industries which has helped endlessly. After graduating, the network of skills from friends and peers of Falmouth is also impressive, with lots of entrepreneurs."
His advice to students looking to go down a similar route was: "Make the most of the facilities on offer. There are some world-class resources at your disposal. Do as much as you can – in and outside of university – Cornwall is a great place to study and live."
You might also like