Falmouth University Students Takeover Source FM
21 July 2020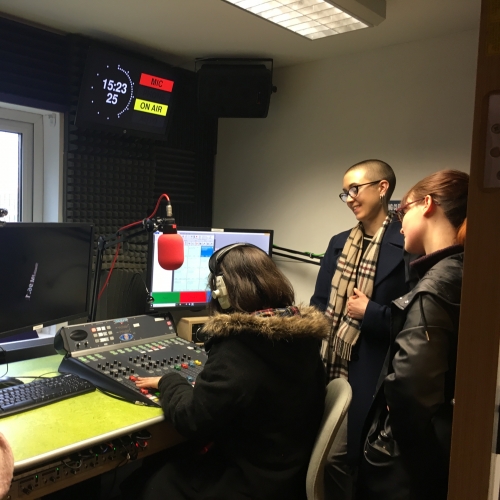 On Sunday 26 July at 10pm, four Fine Art students from Falmouth University will take over local community radio station, Source (96.1) FM with a two-hour show.
The aim of the collaboration is to encourage students to explore the possibilities of sound and radio in their work, and to engage with a live audience outside of the University.
Fine Art Lecturer, Bronwen Buckeridge, spearheaded the collaboration with Source FM.
She said: "Fine Art students Erin Hyde, Ella Maiden, Ursula Dawson and Sian Gourlay took on the challenge and succeeded in taking their work in exciting new directions. They were unphased by the challenges of lockdown and should be proud of the results.
"Thank you to Jerry Padfield from Source FM and our Senior Technician, Dan Thompson for making this possible for our students."
The team of students visited the studio in March to develop their initial ideas. Undeterred by lockdown, they each created their pieces of work on equipment they had available at home, such as mobile phones and brought them together in an intricate collage of sound and spoken word.
At the end of the broadcast, the students reveal their sources for inspiration and the challenges they faced.
Fine Art student, Ursula Dawson commented:
The residency has been an exciting and creatively challenging opportunity and has enabled us all (in the group) to still feel connected to the wider creative community during this time of such huge global upheaval. It has highlighted how powerful creative collaboration can be even when faced with such unprecedented circumstances
Once the programme is aired on Sunday, the show will be broadcast on Soundart radio 102.5FM in Totnes at 10am on Sunday 2nd August, or listen online at www.soundartradio.org.uk

To listen to the broadcast on Source FM, tune into 96.1FM in the Penryn and Falmouth area or listen online at https://www.thesourcefm.co.uk/.
You might also like