Talented Falmouth Design Students Win National Competition
19 August 2020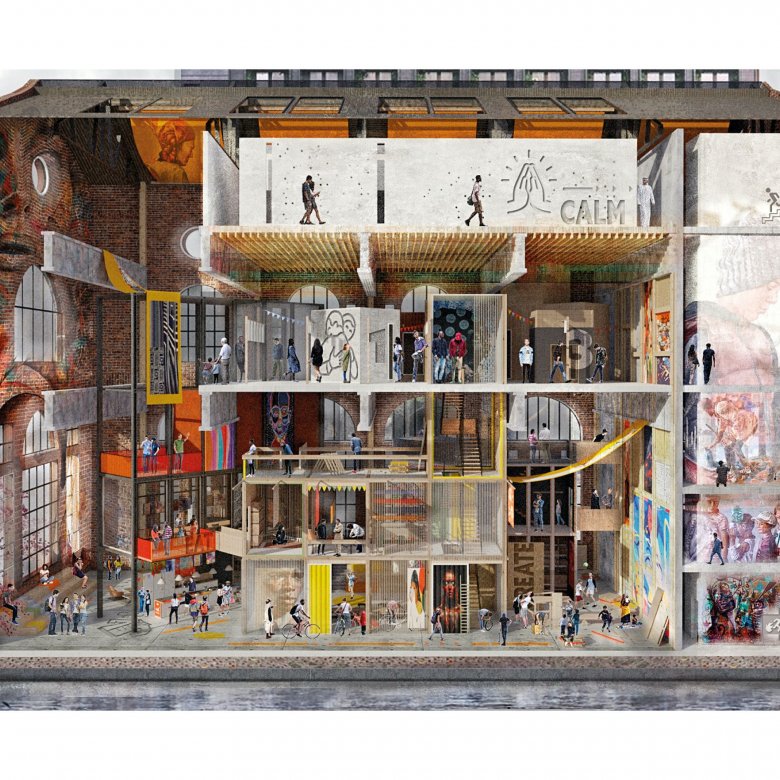 Romina Arellano-Templer Design Student
Image: The Re-Build Project, credit Romina Arellano-Templer
Congratulations to Falmouth University students, Emily Robson and Romina Arellano-Templer, for their wins in the Interior Educators (IE) Velocity Student Design Awards 2020.
Interior Educators was established in 2006 to provide a forum for debate and the exchange of ideas and practice affecting the education of the designers of interior space, for educators and education. More than 50 Higher Education Institutes are now represented by IE.
Award winners were announced at IE Velocity, a virtual design festival that connects students with potential employers.
Romina's design secured the National IE award and Emily's design the Progressing Student Award for Best Live Project.
Romina commented: "I entered my final year degree project, 'The Re-Build Project', which populates the Generator Building in Bristol forming a micro-city within its walls for refugees from different countries to connect with the community and each other.
To have won this award for something that I believe could make a difference and help people means so much to me. To have done this amid a pandemic makes it feel even more of an achievement.
Emily's project 'Geometric Studios' provided a space in Bristol for musicians to collaborate, perform, practice, and record their music, gaining inspiration in the process. Emily's ambition is to take her design and pitch it to BBC Music.
Emily added: "I'm extremely honoured to have won this award, finding out the news was unexpected but very exciting! I had so much fun working on this project. It was a great way to end my second year. And of course, I owe many thanks to my tutors Stuart and Fay for their help and encouragement!"
Fay Freeman, Falmouth University's Interior Design course leader, said: "As the new course leader for Interior Design I'm completely thrilled that we have two winners! Emily and Romina were competing against the top courses in the country. Their wins reaffirm that Falmouth University students are truly talented and highly regarded in their field. A huge congratulations to them both!"