Alice Moore on starting her own handwoven textile business
14 December 2022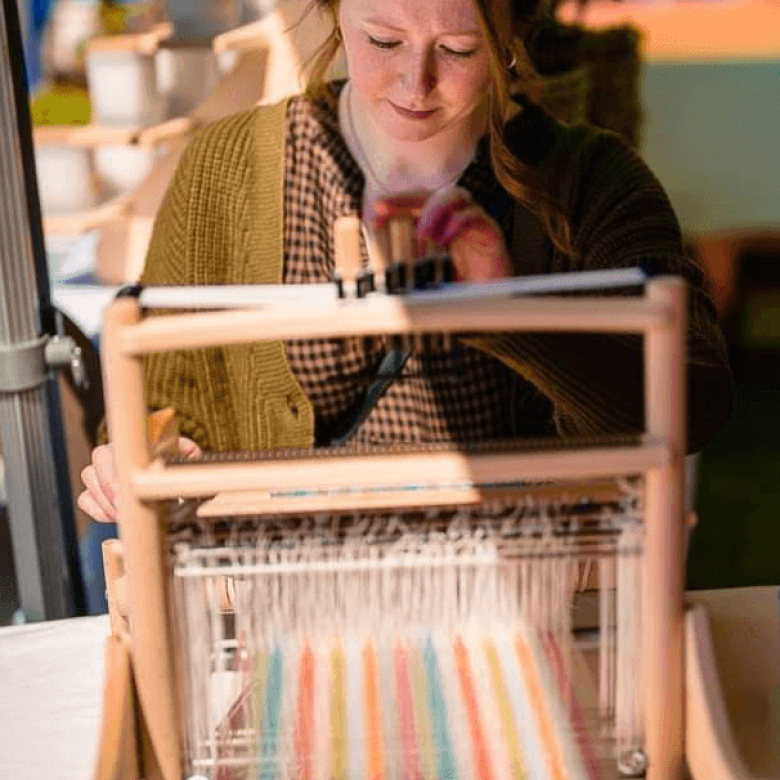 Alice Moore Hook, Line and Ginger
What's been your experience of running your own business?
Being a small business owner, I've faced numerous challenges that have been testing and difficult to overcome. I'm the designer, weaver, administrator, website designer, stall holder and everything else that goes on behind Hook, Line and Ginger. It's challenging juggling my time between all these jobs but the hard work is worth it. 
Designing and working for my own business is the job I feel most proud of. Having been very introverted my whole life, my weaving allows me to have a voice. My creative practice helps me to express my emotions, energy and thoughts without having to say a single word. Starting Hook, Line and Ginger has empowered me and made me more confident, driven and eager to continue this amazing journey. 
Falmouth has a certain creative atmosphere and community spirit that I've never felt anywhere else.
What has been the highlight of your career so far?
Throughout the summer of 2022, I competed in the National Young Trader of the year competition. At the local round, held in Truro, I won best stall in the Arts and Craft category. This led to me gaining a place at the regional final in Exeter, where I was awarded highly commended. I then entered the final round of the competition in Stratford-upon-Avon, competing with over 90 stallholders from all over the UK. Even though I didn't win, the experience gave me a lot of confidence in my business. It was an amazing opportunity to network with customers and other stall holders and to gain valuable feedback on my products and designs. 
How did the Textile Design degree help to prepare you for the industry?
I gained an insight into the textile industry through a mixture of practical workshops and professional lectures led by different creative practitioners. Through these workshops, I was taught a range of skills, from learning about colour theory and natural dyeing to website design. 
Visiting lecturers also shared their own career journeys which gave me a realistic look into the future of life after graduating. 
What did you enjoy most about studying in Falmouth?
Falmouth has a certain creative atmosphere and community spirit that I've never felt anywhere else. Nature has always influenced my ideas and designs; being so close to the sea and surrounded by the beautiful scenery of Cornwall provided endless inspiration for my work. 
What advice would you give to other students looking to enter the textile industry? 
Work hard and continue doing what you love, even if it's just for a few hours a week. Be confident when promoting your work; sign up to craft markets and utilise social media, local press and radio to get your name out there. 
It can be difficult being a creative because most of the time all you want to do is make your own work, but self-promotion and being confident  is what will develop your career. It's a slow process that takes patience but it will be worth it in the end.