5 ways to market your indie game
3 December 2021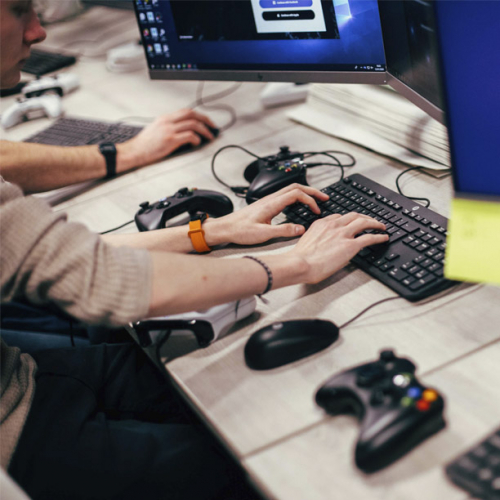 This post is written by Iain Lobb, award-winning game developer and Senior Lecturer of MA Indie Game Development (online).
Raising awareness for your indie game can be one of the most challenging aspects of development. With an ever-increasing marketplace of titles for players to choose from, it's no longer enough to 'make a good game'. Here are five tips to help your indie game stand out.
1. Start with market research
Before you write your first line of code or sketch your first character design, spend time analysing the market to see what kind of games players are actually looking for and spending their money on.
Ryan Clark of Brace Yourself Games recommends finding an idea with 'hooks' - these are things that draw the player in and keep them playing.
Your indie game's hooks could include an attractive art style, catchy soundtrack and unique game mechanics. Clark differentiates between 'pre-play hooks', which make your game appealing in a trailer or GIF, and 'post-play hooks', which keep players engaged once they've started playing.
2. Start marketing way before you release
If you want to launch your indie game with a splash, start your marketing efforts as soon as possible in the development process. While it may be a mistake to announce your game during the prototype stage - and risk underwhelming potential players - it is perhaps a bigger mistake to leave marketing until your release date approaches or, worse still, after launch.
PC game marketplace, Steam allows developers to create a store page as early as they like, requiring only a few screenshots and a description of the game. While you're still working on your indie game, launch your store page and make use of Steam's 'wishlist' feature to bring together fans of your project. When you do finally launch, Steam will automatically notify them via email.
3. Build a community of fans
Marketplaces such as Steam no longer come with a built-in audience of guaranteed sales - it's up to you to push users to your store page from other channels.
Make use of social media platforms such as Twitter, Imgur, YouTube, Reddit, Instagram and even TikTok to showcase your game to potential fans. Use GIFs and short videos to highlight your indie game's unique hooks.
If you're lucky enough to go viral, you can potentially reach millions of interested gamers. As your hype-train gathers momentum, try to build a community around your upcoming release. Start a Discord server so your fans can hang out and chat and create a mailing list of players who want to be kept up to date via email.
4. Reach out to influencers
As you approach your launch window, get in contact with Twitch streamers, YouTubers and games journalists who have previously shown interest in the kind of game you're making.
While a streamer who only plays Fortnite is unlikely to want to feature your project, other influencers who specialise in your game's genre may be eager to share a title that their audience has never seen before - especially if you are giving them special pre-release access.
Most platforms and marketplaces now offer a way to share 'keys' with influencers, which allows them to easily download your indie game for free - making it as easy as possible to showcase your work.
5. Consider working with a game publisher
While game development has become increasingly democratised, and many developers have successfully self-published their games, there are still advantages to working with a game publisher.
As well as funding your project's development, a game publisher can potentially get you opportunities that may not otherwise be accessible, such as showcasing your indie game at expos, entering it into awards, cross-promotion with other titles in their catalogue, and paid advertising.
All this extra exposure can come at a high price though - in the form of a large percentage cut of your revenues - so make sure your publisher is bringing real value to the deal.
If you found this article helpful, you may be interested in Falmouth's online masters in Indie Game Development. The module, Indie Game Start-up, explores game marketing as well as budgeting, finding investment, pitching to publishers and more.
You might also like