Equality, Diversity & Inclusion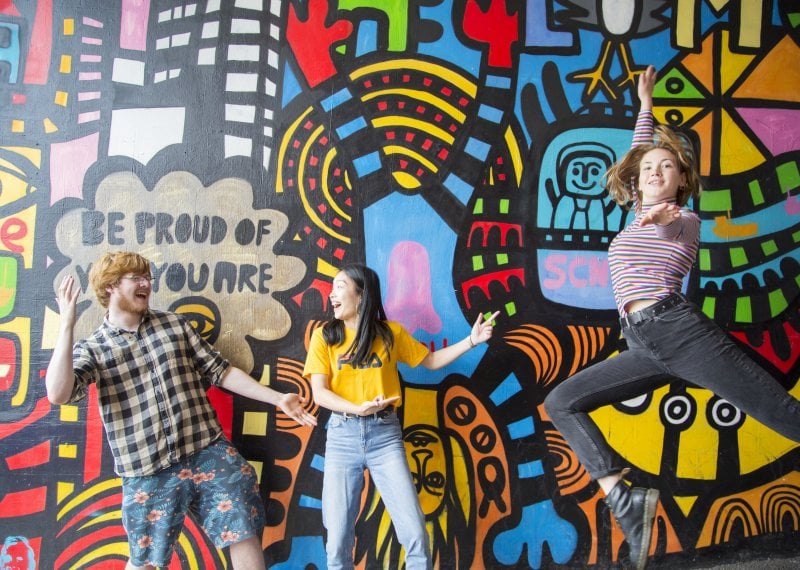 We believe that positively engaging with equality, diversity and inclusion will mean we are better placed to provide the best possible experience for our students, improve staff satisfaction, and strengthen our decision making and our overall performance. Increasing evidence across the sector and beyond suggests that diverse and inclusive institutions are more efficient, more productive and deliver better outcomes.
Our equality, diversity & inclusion mission
To support Falmouth University in being a world class place to study and work, by providing an inclusive environment where there is equal opportunity for a diverse student and staff community to reach their full creative, academic and entrepreneurial potential.
Our aims
To ensure that anyone with talent and potential should be able to study with us by promoting inclusion, advancing equality of opportunity, and creating a diverse student population in which all students, regardless of background, are offered the same choices and opportunity.
To have a staff group that reflects the makeup of, and is able to effectively support, our increasingly diverse and global student profile.
To attract staff and students from all backgrounds to ensure the widest possible talent pool from which to recruit.
To create and maintain a diverse and inclusive working environment that is reflected in staff and student satisfaction and engagement, and in our reputation.
For every staff member to have the opportunity to reach their potential within the organisation – maximising performance and motivation.
To have a workforce with a diverse range of experiences, outlooks and approaches to bring maximum flexibility, creativity, and problem-solving skills.
To ensure Falmouth is compliant with its legal responsibility to have due regard to the need to eliminate discrimination, advance equality of opportunity and foster good relations between people of different protected groups.
Our Equality, Diversity & Inclusion Charter sets out our commitment to equality for all, and key objectives for our staff and student populations. The Charter is supported by an Annual Equality, Diversity & Inclusion Action Plan which sets out short term targeted action against our objectives. The Equality, Diversity & Inclusion Annual Report provides a review of our progress against our objectives and action plan, as well as an overview of our staff and student profile in relation to the protected characteristics.
We have produced a range of toolkits which provide key information and resources for staff to support equality, diversity and inclusion at Falmouth University. The toolkits can be accessed by visiting the Staff Portal