Lecturer
Oliver Raymond Barker is an artist and educator based in Cornwall. He works with the mechanics and alchemy of photography to make images, objects and structures that expand upon what photography is and can be. Working predominantly with alternative analogue techniques he uses photography as a tool to uncover imagined narratives & unseen processes, framed by his interest in culture, ecology and spirituality.
He has exhibited nationally and internationally with institutions such as the V&A Museum and Photography festivals including UNSEEN Amsterdam, Belfast Photo Festival and IED Madrid. He was nominated for the Foam Paul Huf Award in 2023 and in 2020 he was awarded the Grain Portfolio Award at Format Festival. His book Trinity was subsequently printed in 2021 by the publisher Loose Joints.
Raymond Barker joined Falmouth University in 2020 as a lecturer on BA(Hons) Photography.
External Links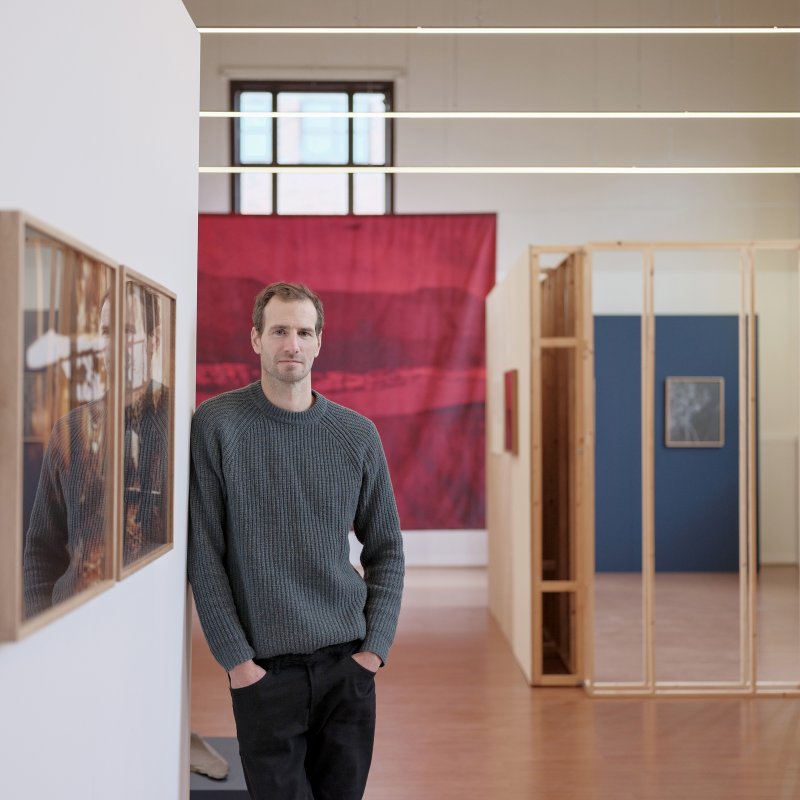 Contact details
Qualifications
| Year | Qualification | Awarding body |
| --- | --- | --- |
| 2002 | BA(Hons) Photography | Birmingham Institute of Art & Design |
Honors and awards
| Year | Description |
| --- | --- |
| 2020 | GRAIN Portfolio Award -  Format Photography Festival |
| 2019 | Nominated for Kassel Dummy Photobook Award |
Research interests and expertise
Experimental analogue processes & sustainable approaches to arts practice
Mythologies, animism & the historic/contemporary use of ritual in the making of artwork
Innovative approaches to the making and dissemination of Photobooks
Research topics
Land
Resource usage
Culture & spirituality
Alternative analogue processes
Independent professional practice
Exhibitions
V&A Museum, London: Energy: Sparks from the Collection 2023
The Hive, Birmingham: Beyond Silver / LAPC 2023
Atelier Noua, Norway: Trinity 2022
Grays Wharf, Cornwall: Moving Landscapes 2021
Ningbo Photobook Festival, Ningbo, China 2020
RAW Phototriennale, Worpswede, Germany 2020
Organ Vida - International Photography Festival, Zagreb 2019
Fotopia Collective Festival, Romania 2019
Photobook Week, Aarhus 2019
PhotoIreland Festival, Dublin 2019
IED, Madrid: Istituto Europeo di Design during PhotoEspaña 2019
Belfast Photo Festival, Golden Thread Gallery: LAPC 2019
Pic.London, Tea building: Pic.up prints 2018
Unseen Amsterdam: Co-op, LAPC 2018
Newlyn Art Gallery, Newlyn: Forest Obscura 2017
Four Corners Gallery, London: London Pinhole Festival 2017
St John on Bethnal Green, London: Photo Pioneer I Photo Primitive 2017
Geumgang Nature Art Biennale, South Korea 2016
Penwith Gallery, St Ives: Photo Pioneer I Photo Primitive 2016
Back Lane West, Redruth: Cross Currents 2015
The Exchange, Penzance: The Clubhouse AGM Book Show 2015
Centre for Contemporary Art & the Natural World, Exeter 2015
Penwith Gallery, St Ives: Making Time 2014
Syson Gallery, Nottingham: Strange business 2014
Environment & Sustainability Institute, University of Exeter: Natural Alchemy 2014
Back Lane West, Redruth, Cornwall: Natural Alchemy 2014
Residencies, Awards & Symposiums
Cultivator: Creative Export Grant 2022
GRAIN Portfolio Award - Format International Photography Festival 2020
The Camera as Political Apparatus workshop: Atelier Noua & Double Dummy 2020
A-N (Artist Network) development bursary 2020
Kassel Dummy Award: Trinity (shorlisted) 2019
Peer Forum, The Photographers Gallery, London 2018
Meijburg Art Commission : Nominated finalist 2018
Cultivator: Creative Investment Grant 2018
Cove Park Arts centre residency: Backpack Obscura 2017
Dartington Hall, Totnes: In Other Tongues Symposium, invited speaker 2017
London College of Communication: Shadows Symposium, invited speaker 2017
Dartington Hall, Totnes: Art.earth's First Friday series, invited speaker 2016
Gonju, South Korea: Geumgang Nature Art Biennale participating artist 2016
Gonju, South Korea: International Nature Art Seminar participating artist 2016
Natural Alchemy publication shortlisted for Kaleid Editions annual collection 2016
Back Lane West, Redruth: Cross currents residency 2015
University of Exeter: Research and creative industries symposium, Invited speaker 2014
Back Lane West, Redruth: Natural Alchemy project residency 2014
University of Exeter: ESI Creative Exchange programme 2013
Publications
Trinity : Loose Joints. Essays - Martin Barnes & Nick Hunt 2021
Of Earth For Earth: The meaning of a mine. 2020
Dark Mountain Issue 15: featured artist 2019
Anatomy of Stone: hand printed & bound, unique 2017
Photo Pioneer I Photo Primitive (catalogue) 2016
Geumgang Nature Art Biennale – Breathing Art (catalogue) 2015
Natural Alchemy: hand printed & bound. Essays - Dr. Chris Bryan & Caitlin De Silvey 2015
Dark Mountain Issue 8: featured artist 2015
Making Time – New Photographic Constructions (catalogue) 2014
Dark Mountain Issue 5: featured artist 2014
Public Collections
V&A National Art Library, London, UK
Stills Gallery, Edinburgh, UK
San Telmo Museum, San Sebastien, Spain
Atelier Noua, Bodo, Norway
Fotobook Festival Kassel, Germany
Korean Nature Art Association, Korea
Brooklyn Art Library, New York
University of Exeter, UK
Social, community and cultural engagement
Talks & Workshops
Offprint, Tate Modern, London, UK
Unseen photo festival, Amsterdam, Netherlands
Cove Park Arts, Cove, Scotland, UK
Tate St Ives, Cornwall, UK