Family Tree is an ode to mixedness, one woman accompanied by multiple voices on a personal political journey into diasporic cultural heritage and what it performs: privileges and challenges. This includes lived experience of multiple viewpoints, being able to 'pass', a light touch relationship with notions of 'belonging' aka pissing on territorial ownership, migration and loss of heritage, immigration, scattered families, the challenge of multiple languages and inter-generational (mis)understandings. It is total theatre, including spoken monologue and direct address, dance, original music as variations of the punk version of protest song Bella Ciao, live loops and layered soundscape, archive photographic images touched into motion using a visualiser, and film and audio recordings.  
My research aim was to investigate, through a solo performance, how the cultural, political and social realities of mixed heritage people can be interrogated through the intimacy of one person's family story and also how this solo can connect differently to brown, white and black audiences. New insights are aimed at, in the area of contemporary performance and mixed ethnicity studies. 
I build on and contribute to performance that explores race, ethnicity and identities – namely the current work of Inua Eliams, Debbie Tucker Greene, Jonzi D, Coco Fusco, Mojisola Adebayo, Selina Thonpson and many others. My work contributes to the current focus on contemporary performance and diasporic, multiple heritage and race representation. 
This work aligns with Creative Connected Communities, Storytelling and Inequalities. It is the lead project in a new start up  business in Cornwall – MisriDey Theatre and engages with themes of racial inequality and the need for change, working within Global Majority (GM) communities and modelling a diverse workforce in the company. It adds value by leading in inter-disciplinary, academic practice as research, and practice led teaching, leading and feeding into AMATA research culture and thus also  contributes research and intellectual material to the PGR and UG communities of students.  
Misri Dey
Sarah Levinsky
Aga Blonska
Kuldip Sing Barmi  
Claire Sivier
Kirsty Cotton
Isabel Bianchini
Vikki Fox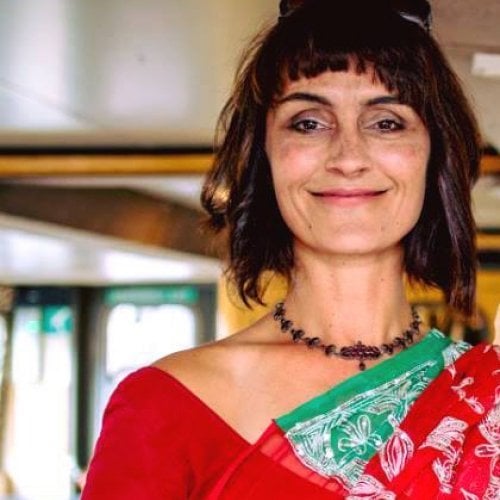 Dr Misri Dey staff image
Dr Misri Dey - Project Lead
---
Dr Misri Dey is a highly experienced practitioner-scholar-lecturer in creative theatre making and acting, solo and group devised performance, Contact Improvisation, voice into performance, autoethnography and cultural and identity studies. Misri works with interdisciplinary performance, across theatre, film and audio, refusing illusionary borders between art forms and instead engaging what is needed to make borderless, creative and hopeful work.
View profile
The work has been seen live by 300 people, including global majority audiences. The impact is social and qualitative. It has also been on social media and in the press, with national reach and significance. Beneficiaries have been theatre going audiences and social media audiences.  
3 performances. 300 people.  
One pilot video. 
One tour pack promo video.  
2 journal articles.  
Dissemination includes live performance ( x3) 2 journal articles, social media Social media engagements: Facebook 568, Instagram 240 and Twitter 1,700. *  
Press includes Cashel, Flo. March 23rd 2021. Cornwall. 365 review, * Tiffany Truscott. 18th March 2021. BBC Radio Cornwall interview on Family Tree. Audience 5,000, * Article. 23.3.2022. St Austell Voice, Family Affair. Readership 21,900.  
Arts Council England: £15,000 
Hall for Cornwall: £5,000 
AMATA Falmouth University: £5,000