There are over 250 species of bees in the UK, 90% of which are solitary. In recent decades, the solitary bee population has declined rapidly, in part due to habitat loss from the construction industry and urbanisation. Biodiversity loss is a key issue worldwide. Bees play a critical role in this crisis as they are the main pollinators in most ecosystems.
This research project aimed to design sustainable habitats for bees to promote biodiversity within sub/urban communities. Prior to the creation of Bee Brick, existing bee nesting products tended to be led by aesthetics rather than ecologically determined considerations, and their use was often ornamental rather than integral. Bee Brick is a novel product that takes mainstream construction materials as starting points and creates habitats for bees displaced by the construction process. The project team aimed to leverage the construction industry as the potential key to safeguarding and enriching biodiversity on a scale that would result in real change.
The project team collaborated with bioscientists from the University of Exeter and Plymouth University to design the Bee Brick. In researching the product, consideration was paid to structural requirements and constraints (size, shape, material, cost) as well as biological elements (what material and cavities bees require and prefer). Designed to provide a nesting site to support the declining solitary bee population, Bee Brick was first released as a product in 2014. 
Cast concrete was chosen as the preferred material since it can be easily moulded, enabling complex shapes to be made using hard-wearing rubber tooling material. Various material combinations (including china clay, ground granulated blast-furnace slag and fly ash) were tested in Plymouth University's heavy structures lab, using compression testing and thermal testing on the mix design to establish its suitability as a cast construction material. This testing determined that 75% of each brick could be comprised of granite waste material from Cornwall's china clay industry, with 25% granite aggregate and cementitious material to act as a binding agent.
Further research was required to determine that each Bee Brick should contain 18 cavities of 80mm to strike a balance between structural integrity, appearance and plentiful habitat.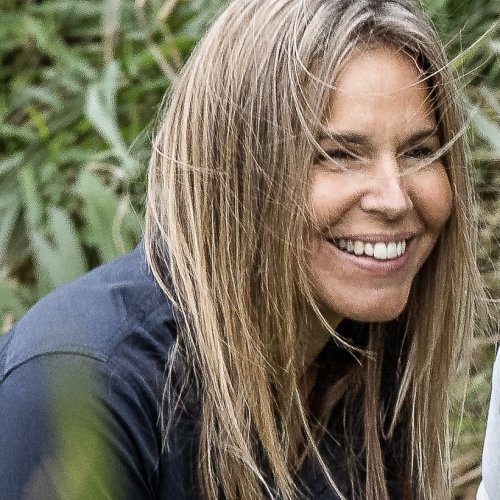 Kate Christman image for Bee Brick
Project lead - Kate Christman
---
Kate Christman is a Senior Lecturer in Graphic Design within the School of Communication at Falmouth University. She is a designer and educator with over 20 years of creative industry experience. She has worked as an art director for a number of multinational organisations including Dyson, BMW, Mini, and Diageo. Kate is the co-founder and creative director at Green&Blue, a product design company that creates habitat for species displaced by the construction processes within urban and suburban communities. Find out more about Kate's professional and academic experience, projects and outputs by visiting her staff profile.
Staff profile
Bee Brick has partnered with Dr Rosalind Shaw, Research Fellow in the Environment and Sustainability Institute (ESI) at the University of Exeter as scientific consultant, advising on pollination, biodiversity in the built environment, and bee behaviour. The project team also collaborated with Plymouth University, which undertook structural testing of prototypes.
Bee Brick went on sale in 2014 and has since sold over 21,000 bricks worldwide, including in the UK, Europe, Brazil, USA, Canada, and New Zealand. All of this has led to around 350,000 additional individual cavities for solitary bees.
The project research led to the project team attending the National Pollinator Strategy meeting in 2017. The project lead presented Bee Brick to the panel, and with other key stakeholders, she informed the resulting 2030 National Pollinator Strategy.
In 2019, the project team partnered with the Eden Project to launch 'Plan Bee', an exhibition run by the Eden Project that featured Bee Brick. As part of the exhibition, the project lead presented to 60 members of the public with colleagues from the University of Exeter, the Wildlife Trust, and Cornwall Council.
The launch of Bee Brick was also supported by an outreach campaign that included engaging with over 1300 children across six schools in Cornwall. The project team also organised the campaign 'Wear Stripes Wednesday' on 4 July 2018, where over 1000 children participated to raise awareness of bee conservation. A resource pack was developed for teachers for Solitary Bee Week.
The project has impacted policy and practice across the construction industry. Since 2015, multiple construction companies across the South and South West England have started to incorporate Bee Brick into their builds, including Kier, Wainhomes, and Legacy. In 2017, The Duchy of Cornwall committed to embedding the Bee Brick in new homes at its Nansledan Estate project in Cornwall, and Poundbury near Dorchester.
Local planning authorities have also formally recognised Bee Brick in planning policy. In March 2020, Brighton & Hove Council agreed on a new planning condition requiring a Bee Brick in all suitable new builds. Cornwall Council's 2018 Biodiversity: Supplementary Planning document also recommends that 50% of new houses should incorporate a Bee Brick. Furthermore, Bee Brick was cited in a 2017 Natural Environment Research Council-funded report by the universities of Glasgow and Oxford.
The Bee Brick outreach campaign has also led to an increase in education among local communities about the needs of solitary bees.
With over 21,000 Bee Bricks sold, there are a potential 350,000 more cavities available for solitary bees to nest in within an urban environment than without the Bee Brick. This has the potential to amount to an additional 32,900 breeding solitary bees.
Awards
Winner, Soil Association Innovation Award 2014 and shortlisted for the 2015 Design FX awards.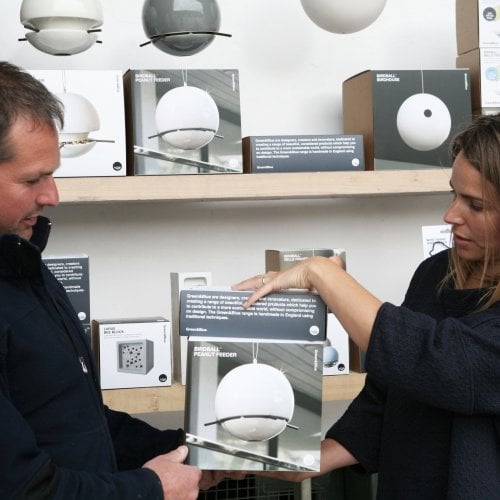 Kate Christman bee bricks - story 3
Lecturer's Revolutionary Eco-Friendly Bee Bricks Bought by Prince Charles
---
Senior Lecturer, Kate Christman's award-winning sustainable bee bricks have received national success with clients like Prince Charles spending £55,000 on including this innovative product in his eco-friendly housing development in Newquay.
Read more