South African Photography
The study charts the very first camera lucida drawings by Sir John Herschel at the Royal Observatory in Cape Town all the way through to digital inkjet prints by Andrew Tshabangu, Zanele Muholi and Dave Southwood. Simon's research into creating the book has unearthed new material - particularly a huge wealth of original research from 1837 through to apartheid in the 1950s - and will be the first of its kind to tell the full story of South African photography from its beginning through to the present day.
The book is the first comprehensive survey of South African photography from 1837 to 2020, charting the full narrative, not only the history of photography, but also the history of South Africa, through the photographic image. Simon, who lived in Africa in the 1990s, has always had an inherent interest in trying to do a major project on the African continent. For this project, his first fieldwork session was in 2016, and since then he has returned to South Africa annually to conduct further research. This included interviews with some of South Africa's leading photographers such as the late David Goldblatt, Omar Badsha, Roger Ballen and Paul Weinberg amongst others.
Innate within the book, is the fact that the photographic image tells many multi-layered stories. This includes everything from what people wear in terms of portrait photography through to landscape, social documentary, photojournalism and a whole set of discourses from colonialism through to apartheid and post apartheid. Social, cultural, political and economic narratives are all explored through these discourses.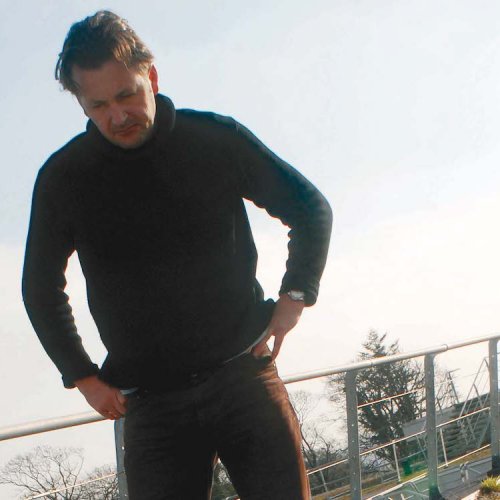 De Simon Clarke staff image
Dr Simon Clarke - Project lead
---
Dr Simon Clarke is a Senior Lecturer in BA(Hons) Textile Design at Falmouth University. His professional practice and research span printed textiles, photography, painting, visual anthropology and African arts. Find out more about Simon's academic experience, research interests, projects and outputs by visiting his staff profile.
Staff profile
Simon has forged strong links with the University of Johannesburg, the University of Witwatersrand, the University of Western Cape and the University of Cape Town, with all four institutions proving to be invaluable in his research. The University of Cape Town has a unique collection of photographs dating back to the 1860s which have allowed Simon to tell the story from that time through to apartheid and post-apatheid narratives.
The book will be distributed worldwide and the aspiration is to co-ordinate the publication of the book with a series of international exhibitions reflecting indicative content. Preliminary discussions with the Museum of Contemporary African Art and other Museums, such as the Museum of African Art while at early stages are seen as potentially viable along with other possible venues around the world.
Simon expects the book – a hardback, large format publication, with over 170 black and white and colour images to reach a vast audience and to have an immense impact. It will appeal and be of interest to those working professionally and academically in the field of photography. Moreover, it will be of interest to those engaged in African Studies, cultural and visual anthropology, ethnography and will resonate with themes in relation to colonialism, neo-colonialism, apartheid and post-aparthied eras as well as the African diaspora.
South African Photography on publication will provide through its systematic chronology from 1837 to 2020 and integrated research and insight consequent new understanding and awareness of the field of study. The book will highlight the significance of photography on the African continent in relation to the history of photography and its importance in the documentation of the history of South Africa.

This forthcoming book provides the first complete survey of South African photography and hence is of genuine value to professional, academic, student and general public involved in photography. The interpretation and meanings associated with the photographs will provide new perspectives on numerous aspects of the picture and how to read it. This research will therefore be of particular interest to university and art college photography departments as well as curators and archivists in museums, galleries and national libraries
The anticipated social and cultural impact will raise again consciousness in the incremental shift from colonialism to democracy charted through an array of pictorial narratives. And from, which social, cultural, economic and political lessons can be learned. Through the support and engagement with photographers, curators, archivists, historians throughout the project the consensus has been one that this is timely project to undertake and a necessary one that can provide an objective first full study of South African photography.

This research has the capacity to enrich, engage and to contribute to change but to what extent will become clear on publication. While the book is still in progress it is already recognised as an important undertaking. Notably, through the constructive support from iconic photographers ranging from David Goldblatt to Andrew Tshabangu. Academics, curators, archivists and professional photographers who identify with this research project's value hail from significant African institutions such as the University of Cape Town, the South African National Gallery and Roger Ballen Foundation.
This small collection of photographs were taken in 2016 at the start of the book research. The photographs represent a brief, intuitive diversion from a research trip to Johannesburg from the UK.