Talking inspiration & inclusivity with graduate Abbi Hughes
21 June 2022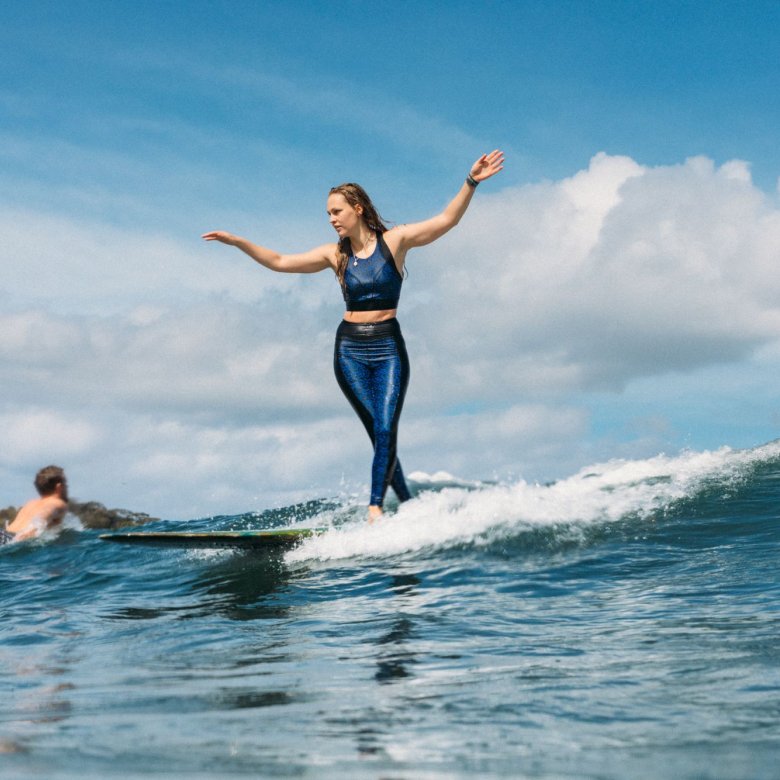 Abbi Hughes Surfing
Feeling supported 
Research also informs my work. I learnt how to fall in love with a subject through research while studying at university. I remember getting fully immersed in my dissertation and I loved seeing how the areas I was studying impacted my final projects.  
For the first time in my educational life that barrier was lifted, and I felt free.
Like many creative types, I'm dyslexic. So, finding such joy and inspiration in research, in academia, was a revelation. Falmouth University was the only place throughout my education that my dyslexia was recognised. The support I, and so many others at the University, received was really amazing. For the first time in my educational life that barrier was lifted, and I felt free.  
Staying present  
One thing I try to practice in my personal/freelance work is being present. I think I'm privileged that I get to continue to make my own artwork alongside my nine to five. I always come back to it because it isn't my money-maker. I feel so connected to it – it's something that's just so ingrained in me. When your subject is the ocean, it's always exciting and enticing. There's no ripple, colour or light that's the same. And, as you might have found if you take your phone out to snap a sunset or a wave, it's also quite difficult to capture. I find the disparity between what I see and what I capture exciting too. 
That's why it's important to be present – to be in the moment and recognise the beauty of the environment, and then to understand that what you see when you get home and go through your images won't be an exact replica of what you saw. But you hope it will convey the feeling, the emotion of witnessing it… and that's where the editing comes in too. Using technology to enhance that experience for the viewer.  
Using the camera for good  
I love being able to share my love of the ocean with my camera. I also love using my discipline to highlight and support good causes. Luckily for me, I work for a B-Corporation that puts sustainability and inclusivity at the top of its agenda.  
I'm particularly proud to be a part of the Seasuit project for Finisterre, which has just launched after almost 10 years of development. Typical women's swimwear and wetsuits can be a deterrent for many women, whether due to body confidence, religion or beliefs. So, the Seasuit is all about making the ocean more accessible to all women.   
The project has been led by women – from concept to design to production. And I'm very proud to have done all the photography for the project, all the way from the prototypes up to our final product marketing images. This photoshoot was an absolute joy – located at Clevedon sea pool, we had women of a range of ages, body shapes, races and religions getting into the sea wearing the suits.  
As someone who has had the privilege of enjoying the sea since I was a young child, it's just amazing to know that this product could empower so many more women to take the plunge. And I'm happy that I can use my creativity to help spread the word. 
Explore more of Abbi's work