Sustainability Week - 5 days, 30 events, open to all
26 February 2021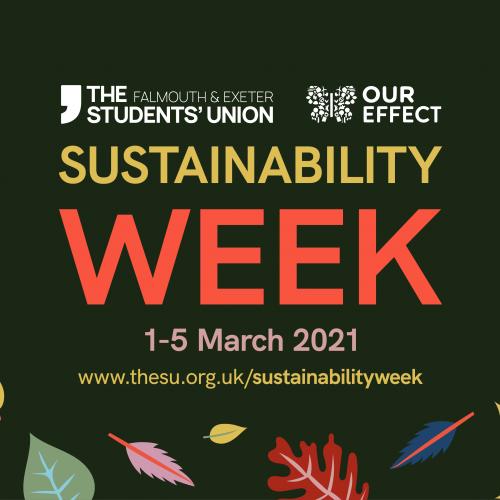 You're invited to be a part of Sustainability Week – an action-packed digital campaign comprising of more than 30 events, running from 1 to 5 March.
A collaboration with our campus partners the Students' Union and the University of Exeter, we want to prompt conversations and support positive behavioural changes to help create a more sustainable world. Despite the whole world pressing pause last year, and as a result reducing some carbon-intensive activities, 2020 remained the hottest year on record, with atmospheric carbon emissions only falling by 7%.
We need to make more sustainable choices and changes in all aspects of our lives. We need to learn to work with nature if we are to avert the climate and environmental crises.
During the week of 1 - 5 March, you can explore five key sustainability themes:
● Sustainable Lifestyles
● Energy & Resources
● Ecotherapy, Nature & Wellbeing
● Biodiversity & Conservation
● Future Thinking
Each day, you can get involved in a host of online events, from interactive workshops on calculating your carbon footprint, to educational guest speaker sessions covering themes like rewilding, ecotherapy & health, and carbon capture technology, to live screenings of inspirational documentaries.
On Thursday 4th at 4pm, we'll be welcoming members and trustees of The Word Forest Organisation for a live screening of their inspiring #TreesAreTheKey documentary, which will be followed by a Q&A with the audience.
Ahead of Sustainability Week, our Sustainability Co-Ordinator Jake Causley had the following to say:
"Please do check out all the events we have on offer as part of our Sustainability Week campaign via the website, and share it around with friends, family, and colleagues.
"I'm hopeful that our events will inspire and influence not only our University campus communities, but also members of the public across the country!"
For more information about the Sustainability Week campaign, or sustainability in general, feel free to contact Jake by email on: Jake.Causley@falmouth.ac.uk
You might also like