Student Aims to Make Medical Casts More Sustainable with the Help of 3D Tech
11 November 2019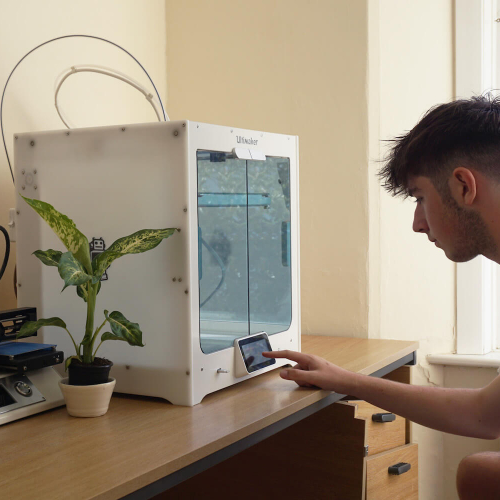 Third year Sustainable Product Design student Jack Cockle has just started his final year of studies where he hopes to create sustainable casts for medical purposes.
We caught up with him to find out more about his project, the process, and how he managed to bag his own 3D printer to aid the project!
Tell us about the plans for your sustainable 3D cast project?
3D printing has revolutionised the process of making medical casts to treat broken bones; greatly reducing the amount of material used within each cast, as well as making them waterproof, more hygienic, much more comfortable and generally reducing the difficulty within the process of cast making.
However, a large issue within the design of medical equipment is the amount of waste generated due to the need for maintenance of high health and safety/hygiene standards. Medical casts are also single use products, mainly because they are tailored to the anatomy/form of an individual, which means they are not reusable as a cast. I'll be attempting to design a more sustainable cast through exploration of a variety of sustainable design strategies.
How did this project come about, is it something you're interested in or an evolution of your previous degree work?
I've got a particular interest in CAD and 3D printing technologies and am seeking a career in the field of digital design.
I'm also keen to create a new product, solve a real-world problem or redesign an existing one to make it better and ideally, of course, more sustainable, and this idea ties in with that.
We hear CREATE Education have supplied you with 3D printer for your final year project?
Yes, due to my interest in 3D printing and choice of dissertation topic, I was referred by my tutor to the owner of a 3D printing workshop in Falmouth. We started working together last year. He was already a CREATE Education ambassador and connected me to them. At the end of my second year I posted about my project on LinkedIn, CREATE saw this and commented on my post, offering to support my work by sharing it on their blog and social media pages. I was then offered to become an ambassador. Upon further discussion of my second year project, its promotion and my plans for third year, I was offered an Ultimaker S5 machine loan to aid my upcoming project.
How will using the printer benefit your work?
Owning my own 3D printer gives me more flexibility and speed. Whilst I have been able to achieve considerable quality within my design, modelling and prototyping with my small, hobbyist grade 3D printer, the Ultimaker S5 is a professional piece of machinery, used in industry mainly for prototyping functional products and components. This will enable me to manufacture much larger, higher quality parts, models and prototypes.
The higher print resolution, and subsequently the smoother surface finish that I'll be able to achieve will certainly help when making moulds directly from my 3D prints.
Any other plans in the pipeline?
I'm also using the Ultimaker to develop and refine one of my projects from my second year which I will be exhibiting at the TechAbility Conference in Birmingham in November. This event aims to showcase the very best practice in assistive technology provision for all learners, whatever their requirements
How has the course inspired you in your work?
I believe I can speak for all of my fellow course mates when I say that studying this course instils a feeling of responsibility to design products with as little environmental impact as possible from the start rather than simply teaching us about the various ways of designing sustainability into a product. We have also been taught about the limitations of existing manufacturing technologies that allow us to ground our ideas in reality. I believe that this is reflected in the work of all third year students, allowing us to create products that are feasibly sustainable.
We've learnt how to design products with social sustainability as part of the brief, aiming to create solutions for certain groups where needed. For example, TriSense, my final second year project, consisted of a multisensory toy designed to improve the lives of children with profound and multiple learning disabilities by giving them the ability to provide their own sensory stimulation.
The product contains electronic components that are easily removable with a standard Philips screwdriver, promoting repairability. Once finished with, all of the components can be separated. The electronics can be reused and the mono-material housing is fully recyclable, which is enhanced by the fact that it is made out of PET - the most widely recycled plastic around the world. This is the perfect example, within my own work, where the course has inspired the entire existence of one of my designs from the beginning of the project.
You might also like