Reporter Role in Falkland Islands
30 May 2018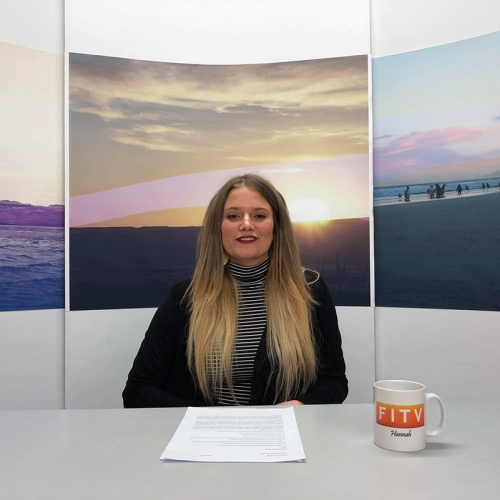 Journalism graduate Hannah Newton has secured a reporter role at Falkland Islands Television (FITV).
FITV is a local television station in the Falklands that produces a weekly news programme called "Falklands in Focus", summarising all of the local news occurring in the islands. The position's main focus is preparing for this bulletin, utilising a range of journalistic skills such as filming, editing, script writing and presenting.
Hannah explained: "Most of my duties are that of a video journalist, but I'm also hoping to work on some of my own projects whilst I'm in the Falklands.
"I'd like to explore what it's like to grow up on the islands for teenagers, what people do with their spare time and the differences in the lifestyles of Falkland Islanders to mainland UK citizens."
As the majority of flights to and from the Falkland Islands carry military personnel and equipment, Hannah had to board a plane at RAF Brize Norton. From their she flew firstly to Cape Verdun, and then straight onto the Falklands.
For the majority of her twelve month stay on the islands, Hannah will be based in the capital, Stanley. Hannah feels that her five years studying and living in Cornwall has prepared her well for her upcoming role.
She reflects: "I don't think I would have been offered the job had I not spent so long in Cornwall, the outdoorsy culture and lifestyle bears a lot of resemblance to that of the Falklands.
"Studying at Falmouth helped me to get excited about multimedia journalism, taught me that I can present in front of a camera, even when I didn't want to. It made me realise that not everyone comes from the same walk of life or has the same experiences, I think that knowledge will serve me well in the Falklands."
You might also like