Graduate designing luxury yachts
13 January 2021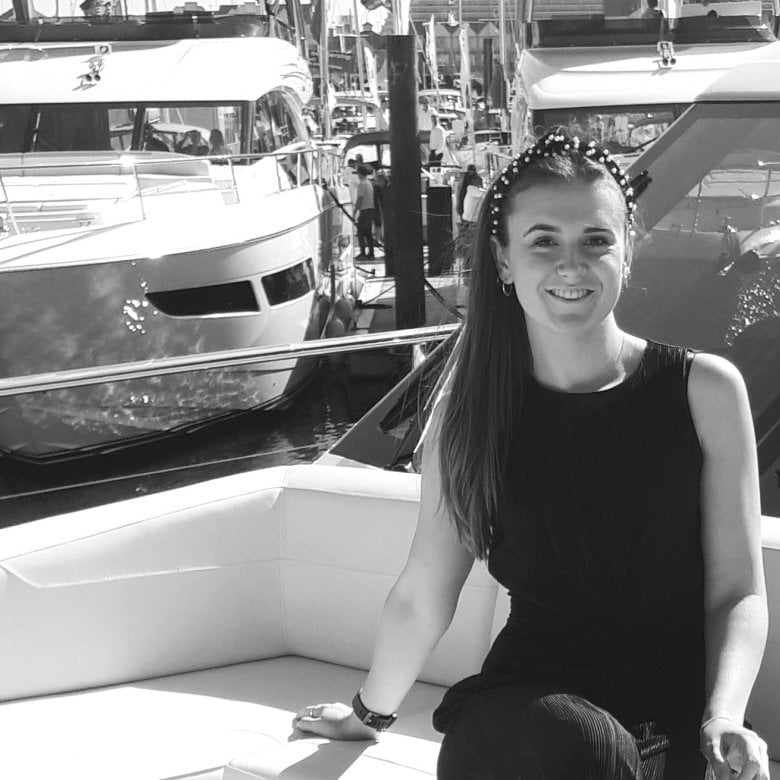 Emily King Headshot
Interior Design graduate Emily is currently working as Creative Designer for Princess Yachts, a leading British luxury yacht manufacturer.
Speaking to us about the business, Emily said "we aim to deliver unforgettable experiences through our forward thinking designs, executed with a meticulous attention to detail. Our reputation for design, engineering and manufacturing excellence has earned us global appeal and has established Princess as a truly international brand, with a distribution network that spans more than 100 countries worldwide."
We spoke to Emily about her ambitions, memories of Falmouth and advice for current students.
 
What did you enjoy most about your time at Falmouth University?
Living in Falmouth was amazing. The fact that the studio is just a 5-minute walk from the beach was the icing on the cake! With the course itself, I loved how much creative freedom we had.  First year felt very much like a foundation year in that we were able to explore all aspects of Interior Design and work out which disciplines we were more interested in and then hone these skills throughout second and third year. The lecturers constantly encouraged us to push boundaries and explore more innovative ideas, which really tested us as designers.
What are you up to now work wise, what inspires you as an interior designer?
I have been at Princess Yachts since graduating in July 2018 and work within the Creative Design team. We are involved in all stages of the design process for all new products; from initial concept ideas and CGI's through to final specification of all surface finishes, loose furniture and lighting.
We are constantly researching new trends and trialling new finishes and concepts to help push our products ahead of competitors in the market. We have a real focus on craftsmanship and ensure that this is at the forefront of all of our designs.
Every day at Princess is different, some days can be spent sat researching trends and finishes and then the next we are on site reviewing mock-ups of new ideas that we've been trialling or meeting with the build crew to ensure the build is going to plan and the finishes we have specified are how we desired. I've also been lucky enough to attend boat shows and trade shows including Milan Design Week which are massive sources of inspiration and a really exciting perk of the job!
What advice would you give to prospective students? 
Embrace everything the course and Falmouth has to offer - you'll miss it once it's over! One thing that I loved about the course was the lack of restrictions and the freedom that gave you to create interiors that were exciting, interesting and made a real statement. When choosing your course, choose something that excites you; that you have a real passion for, and you certainly won't regret it.
A project I have worked on - Princess X95
Last year we launched our X95, the first of our new flagship range of 'Superfly' yachts. The image below shows just a section of her flybridge which spans almost the full length of the yacht, delivering an expansive and flexible space for guests to enjoy. I started working on this project on my very first day so it was a very exciting and proud moment finally seeing it launch!