Frugi Feedback for Hollie
16 March 2020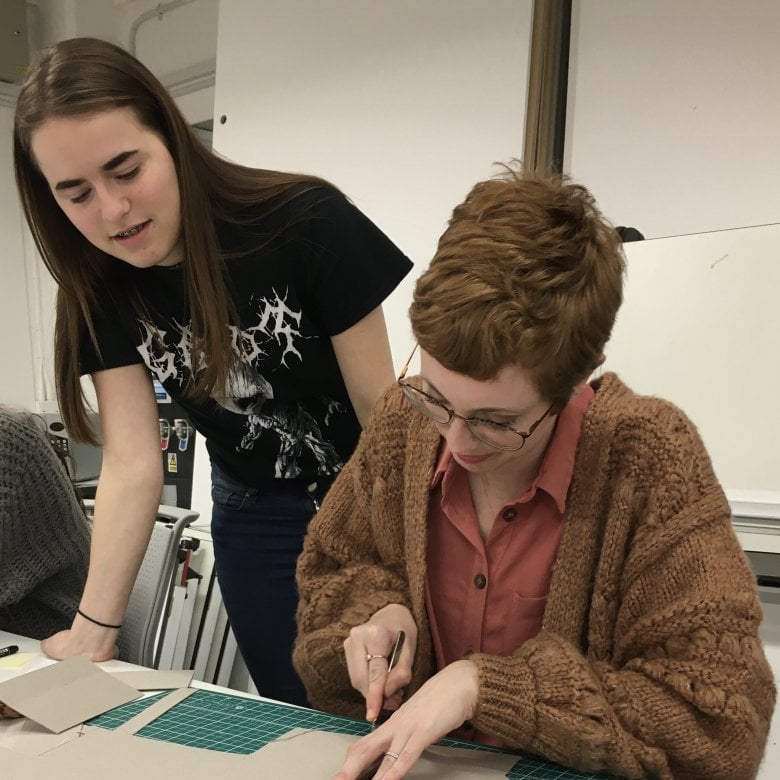 SADI_Student_HollieMilne
First year Interior Design student Hollie Milne designed a trade stand for Frugi, the UKs leading organic childrenswear brand located in Cornwall, as part of her design coursework. On completion of the project, Hollie wanted to reach out to the company to share her ideas and get some industry feedback. She met up with Laura Scott, Visual Merchandising Manager for Frugi, who is responsible for designing Frugi's selling environments, including trade stands.
We spoke to Hollie about her project and what she learned from her chat with Laura.
How did you get involved with Frugi?
As part of our branded interiors brief we could either choose a brand or work with a brand that was suggested. I really wanted to work with a Cornish brand and a brand that I admired - Frugi ticked both of those boxes!
Can you tell us about your trade stand design?
During my extensive research of the brand I came across YouTube videos that Frugi had made to celebrate '15 years of doing things the Frugi way' which highlighted their use of organic cotton and the transparency of how its bought and then made into clothing in India.
I wanted the trade stand to tell this story and I designed an enchanted cotton forest for visitors to get immersed in. I needed make the concept as believable as possible so I took a fox motif from one of their designs and turned it into a character which was interactive within the stand. This character was part of a product that was to be launched on the stand, a book and sleep-suit set.
What inspired your ideas?
Frugi's use of organic cotton and their transparency as a company. Their general ethos as a company is really impressive.
What prompted you to get feedback following completion of your coursework?
Our course leaders encouraged us to reach out to the brands we had designed concepts for and luckily for me Frugi was very responsive!
What did you learn from the feedback?
It was very interesting to meet with Laura and to get insight into the industry, in particular the limitations that can impact artistic schemes and how trade stands have to strike the balance been being creative yet facilitating sales and revenue for the brand.
How will the feedback from the company help you with your studies going forward?
The insight was invaluable and the feedback given will definitely aid me when designing concepts for brands in the future.
We also caught up with Laura Scott from Frugi to see what she thought of Hollie's project: "It was great to be invited to the university to see Hollie's project on Frugi. She had really done her research on the brand and identified the organic cotton message which forms the foundations on which Frugi was built. Hollie's design concept was well thought through and very well presented.
"It's really important for students to reach out to local businesses and gain valuable knowledge and experience alongside their studies, I know this input helped me elevate my understanding of the industry when I was a student and allowed me to be more prepared for life outside university."